The Geek Girl and the Scandalous Earl by Gina Lamm: Jamie Marten is a geek to the core. Her idea of a good time it playing online adventure games and fighting fictional monsters. She is also trying to get over her ex, Logan who walked away from her and left her broken hearted. When her best friend Leah requests Jamie's help at her grandfathers antique storage unit, poor klutzy Jamie knows she is in trouble. But when Jamie is sucked through the looking glass of a 200 year old bureau, and deposited in London, England 1816, it doesn't take long to realize that this 21 century girl may be in over her head.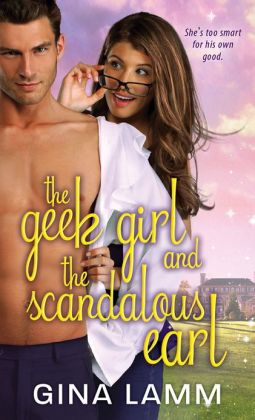 Micah Alexander Axelby, Earl of Dunnington could not have been more surprised to find and unconscious, half dressed (at least for this time period) Jamie on the floor of his bed chamber. What wild stories she tells, being sucked through the looking glass and deposited in his home. What kind of witchcraft is little majic box that has a bunch of Angry Birds, and her state of dress in shorts and a tank top would make a monk drool. Micah, or "Mike" as Jamie likes to call him, is trying to repair the damage to his reputation after the mysterious death of his former lover, and the last thing he needs is another scandal. But for some reason Micah can't just turn Jamie out on the street or turn her over the police.
With the help of a meddling housekeeper and a shy maid, Jamie tries to fumble her way through societies rules. But the more time that Mike and Jamie spend together, the more they realized that they never want to be apart. But will a jealous ex-mistress bent on revenge, the rules of society, and the modern technology of 2012 tear Mike and Jamie apart or will they be able to stand the test of time?
Loved everything about this story. The characters were well written and had depth to them. The story was funny and light hearted enough to not be cheesy, yet serious enough to not bog down the movement of the story. I thought that the story was very well written and I would definitely look for more books by this author.
Book Info
Publisher: Sourcebooks Casablanca (March 5, 2013)
The Stakes Have Never Been Higher…
An avid gamer, Jamie Marten loves to escape into online adventure. But when she falls through an antique mirror into a lavish bedchamber—200 years in the past!—she realizes she may have escaped a little too far.
Micah Axelby, Earl of Dunnington, has just kicked one mistress out of his bed and isn't looking to fill it with another—least of all this sassy, nearly naked woman who claims to be from the future. Yet something about her is undeniably enticing…
Jamie and Micah are worlds apart. He's a peer of the realm. She can barely make rent. He's horse-drawn. She's Wi-Fi. But in the game of love, these two will risk everything to win.