In The Gift of a Child by Sue MacKay, Jodi Hawke left the love of her life after being stood up one too many times. There was always an emergency more important than her, and the last straw came on her birthday when she was stood up at the restaurant. But now she needs to seek out Dr Mitchell Maitland once again or loose her child forever.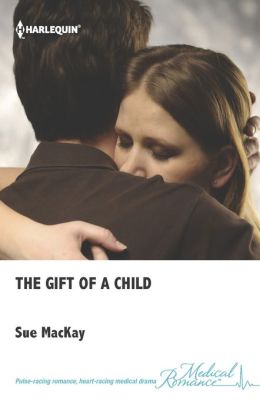 Mitchell never forgot Jodi, but he always believed that he was justified and that she acted irrationally. Unfortunately, that only led to her keeping his child for him for the past three years and being told he is a father when his child is on the brink of life and death is devastating. He is the last chance that Jamie has, but first he has to face his own issues before he can commit to his child.
Mitchell never thought that he wanted a child, but one look at Jamie and a link has been forged that keeps bringing him back to Jamie and Jodi. The challenges ahead are tougher than any parent should face, and Jodi and Mitchell have to face their own past mistakes along with their child's illness.
But the biggest challenge for Mitchell will be asking his estranged twin brother and the best surgeon, Max Maitland to be the surgeon that will have his child's life in his hands. And finding a way to convince Jodi to give him a second chance will take more effort than he ever thought he would be willing to make, but for the family he never thought he wanted he might just go through every sacrifice necessary.
First book in this duet, The Gift of a Child by Sue MacKay is a deeply emotional, heart-rending story that will make you smile and make you cry. I truly recommend it, and don't miss the second book the story about Max.
Book Info

Publisher: Harlequin Medical Romances (July 1, 2013)
Could saving their child be the gift that brings them together? 
Jodi Hawke will do anything to save her desperately ill toddler, including facing the only man she's loved, the only man she had to walk away from—her son's father, Dr. Mitchell Maitland.
Mitchell never thought he would see the one woman to haunt his dreams ever again. But the return of his beautiful Jodi comes with another bombshell—he's a daddy, and his little helpless son is sick. He's the boy's only hope. Finally Mitchell has his chance to prove to Jodi that he can be the man she needs and the father Jamie deserves….