Janice Preston's The Governess's Secret Baby is a beautiful and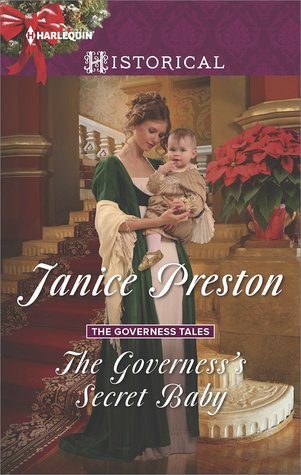 emotional read in which two people who have both dealt with tragedy find each other and discover a love powerful enough to heal. Grace Bertram was just seventeen and unwed when she had a baby girl, Clara, and gave her up for adoption to a loving, childless couple. She's never forgotten Clara or the pain of losing her; therefore, when she learns two years later that Clara's parents have tragically died in a carriage accident, she is determined to find her and ensure she is well taken care of by her uncle and guardian, Nathaniel Pembroke, Marquess of Ravenwell.
Nathaniel has reluctantly taken Clara under his care – not because he doesn't adore his niece but because he is single and has lived as a recluse for the past nine years. He hides at his remote estate, because he was horribly disfigured in a fire that also killed his father. He has suffered the stares and revulsion of strangers and friends when he used to be a social, eligible bachelor. He now lives an extremely lonely life with minimal staff and little interaction with anyone but his animals. To raise Clara properly, he must push his fears aside and quit hiding, which includes finding a governess to live with them.
Grace is trained as a governess and is determined to secure the position in Nathanial's household where she can be with and care for Clara, although she can never reveal that she is her birth mother. Fortunately, Nathaniel does not have a lot of applicants for governess because of his scars and his estate's isolated location, and Grace easily gets remarkable opportunity to be with her daughter.
The reunion of mother and child – even considering that no one is aware that it is a reunion – is a heartfelt, tear-inducing moment in The Governess's Secret Baby. Clara and Grace immediately bond while Grace also begins to navigate a working relationship with the mysterious and lonely Nathaniel. She never looks at him and sees his scars, and he has never had that reaction from someone, especially from a woman. He had accepted his solitary life, and Grace's intrusion is unsettling, but she is exactly what he needs to feel hope for a future that includes love and a family and the strength to face society.
As Nathaniel, Grace and Clara settle into life together, their attraction and feelings grow beyond that of an employer and employee. Their relationship builds at a steady, realistic pace, because they are both leery to risk their hearts due to their painful pasts. Grace also knows she must disclose the painful secret of Clara's birth if she is find love with Nathaniel. Their journey is sigh-worthy, because the reader cannot help but want both Nathaniel and Grace to find happily ever after. They've both faced adversity and neither ever imagined a home and family in their future, which is why The Governess's Secret Baby is truly a romance that is worth your time and tissues.

Book Info:

Publication: 11/22/16 | Harlequin Historical | The Governess Tales #4
The beauty who tamed the beast
New governess Grace Bertram will do anything to get to know her young daughter, Clara. Even if it means working for Clara's guardian, the reclusive and scarred Nathaniel, Marquess of Ravenwell!
Nathaniel believes no woman could ever love a monster like him, until Grace seems to look past his scars to the man beneath But when he discovers Grace is Clara's mother, Nathaniel questions his place in this torn-apart family. Could there be a Christmas happy-ever-after for this beauty and the beast?"