The Greek Demands His Heir by Lynne Graham: The Greek Demands His Heir is the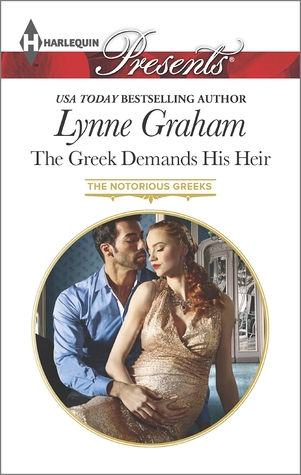 first part in the Notorious Greeks by Lynne Graham.A one night stand with a stranger blow up Leo's perfectly laid marriage plans with his fiancee when the stranger,Grace Donovan becomes pregnant. Now he must break with his fiancee and marry Grace. She might resist marrying a man she barely knows, but Leo will claim his legacy and has all the riches and influence he needs to ensure his demands are met.
The Greek Demands His Heir by Lynne Graham was a well written romance but sadly it was not on par with the author's previous stunning works.
Grace is a medical student who is independent and has been on her own since her childhood. She had strength and I loved her throughout the story. Leo was an alpha male who was too had too much of I-get-what-I-want attitude for me personally. The story was enjoyable due to the fast pace and the good chemistry between the couple.
The story flowed well and was enjoyable read but had nothing new to offer. A good escapist romance but only for a one time read.
Book Info:

 July 21st 2015 | Harlequin Presents #Book 3354 | (Notorious Greeks #1)
"Don't be silly, Leo. Strangers don't get married."
Leo Zikos should be celebrating securing a perfectly convenient fiancee, but it's left him cold. Instead it's stranger Grace Donovan's impeccable beauty that fires his blood. So he decides to pursue one last night of freedom…
But that night and the two little blue lines on the pregnancy test that follow blow Leo's plans apart. Now he must break with his fiancee and marry Grace. She might resist marrying a man she barely knows, but Leo will claim his legacy and has all the riches and influence he needs to ensure his demands are met