In The Greek's Pleasurable Revenge (Secrets Heirs of Billionaires #8) by Andie Brock, Lukas Kalanos wants nothing more than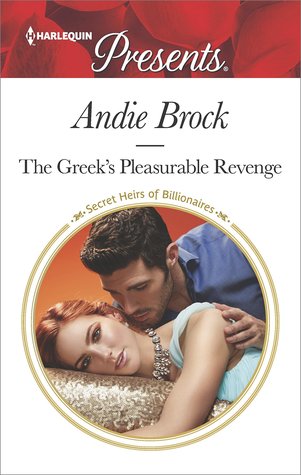 revenge on the entire Gianopoulous family after what the head of the family did to him by having Lukas imprisoned for a crime he didn't commit. However, the more time he spends around Calista Gianopoulous, the harder he finds it to continue punishing her for something she had nothing to do with. Will he be able to convince Calista that they deserve a shot at happy ever after, or will he push Calista too far to make her turn away from him?
"I do not have a lover, Lukas." She summoned the words from deep inside her, where the truth had lain dormant for so long. "But I do have a child."
"A child?" He dropped her arm as if it were made of molten metal. "You have a child?"
"Yes." She watched as the shock that has contorted his handsome features settled into a brutal grimace of stone. "I have a four-and-a-half-year-old daughter."
What a riveting story Ms. Brock has penned in this book, which is all about a hero getting his revenge, making certain he can prove that he was innocent of the crimes he was committed for and making sure nothing stands in his way, not even the woman that he once cared for. The way this story started had me sympathizing with both the hero and heroine, because Calista loved the hero before everything went wrong between their two families, and I could understand why she was rattled when in Lukas's company in the present. Because not only does she think he's a criminal, but she's keeping a secret that could have them at odds even more.
Both the main characters entertained me from start to finish because of their history and the reason Lukas blames Calista for what happened with him ending up in jail. Did Calista really have something to do with his imprisonment? And as for the dialogue, it was powerful and full of emotion; as Lukas is arrogant, unforgiving, and determined to make sure Calista doesn't have any choice but to agree to his terms. Certainly, the hero's need for revenge and this couple's chemistry drive the story, especially when he learns other things about the past. However, in saying that, I liked how he's begun to get his life back on track by finding the proof of his innocence, how protective he is of Calista when it comes to facing her brothers and how determined he is to make sure his father's legacy lives on. While Calista, she's strong and brave the way she stands up to Lukas, even though it doesn't seem like she wins any ground with him. I also liked how good of a mom she is and that she did everything she could to protect her daughter from her family when her father was alive. Was it because she had an inkling of what a bad man her father is?
"So…" Lukas turned the dark force of his eyes back on her. "It would seem that your dear brothers finally know the truth about your father."
Calista pulled a face. "They are not my 'dear' brothers. I never want to see either of them ever again."
He stilled, eyes narrowed, suddenly dead serious. "If Christos ever dares to speak about you like that again, I swear I won't be answerable for my actions." Calista saw his fists clench. "I'm still not sure how I stopped myself from killing him there and then."
"You showed great restraint." She risked a quick smile.
Overall, Ms. Brock has penned a really good read in this book where revenge has never been sweeter, because what started out as Lukas's need for revenge turned into the best thing to ever happen to him – love, family, happiness. Even if, in the end, it's not easy to win Calista back, because she doesn't believe he could ever love her after everything that happened between them in the past and on their journey to happy ever after. The way this story ended was wonderful, as I loved Lukas's words to Calista in his quest to win her back and what the heroine was willing to do for the hero when it came to clearing his name once and for all. I would recommend The Greek's Pleasurable Revenge by Andie Brock, if you enjoy the revenge trope, the second chance romance trope or books by authors Dani Collins, Cathy Williams or Lynne Graham.

Book Info:

Publication: May 23rd, 2017 | Harlequin Presents | Secret Heirs of Billionaires #8
Revenge…by seduction!
The last person Calista expects–or wants–to see at her father's graveside is arrogant billionaire Lukas Kalanos. Five years earlier, after an affair that stole her innocence, Lukas betrayed her family and disappeared, leaving Callie with much more than a broken heart…
Seeking vengeance on the Gianopoulous family for framing him, Lukas finds Callie ripe for his seduction. She will pay for past wrongdoings–between his sheets! But discovering that Callie has had his child is a surprise that changes Lukas's pleasurable plans for revenge…into a hunger to make her his own!