The Groom Says Yes by Cathy Maxwell: The final book in Cathy Maxwell's "Brides of Wishmore" series is simply marvelous.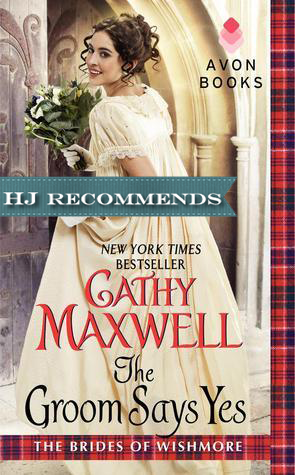 When a book starts out with the last minute rescue of a man about to hang, you know it's going to be and exciting run. Cormac Enright, Irishman, physician and impoverished earl of Ballin, has a problem—he's been convicted of the murder of a female pub singer. However, guilt of some sort has compelled those that accused him of murder to break him out. And although the break-out is inauspicious—one of the rescuers is shot, and perhaps killed—Cormac (called Mac) gets away, and heads up to the village where his rescuers were from, as well as his most vehement accusers.
In Kenmore village, straight-laced Miss Sabrina Davidson is having a bad day. Not only is she feeling disconnected from the other ladies of the village (she is twenty-nine and unmarried), but she has also just learned that her father is engaged to marry a lady with a less than pristine romantic history, having also been intimate with Sabrina's drunken ne're-do-well earl of an uncle. Upset, Sabrina takes off across the countryside, heading to a shepherd's cottage that she often uses as a hideout. She is extremely surprised to find a very sick man there. The sick man gives his names "Enight" before he passes out. Not a woman prone to hysterics, Sabrina loads him into her pony cart and takes him home, where she parks him in the stable and then goes to confront her father, which does not go well. He leaves in a hurry before Sabrina can tell him about the sick Mr. Enright in her pony cart. On her own, Sabrina manages to get him into her house, and up the stairs, and into her own bed, and then sets to nursing him back to health.
Sabrina has spent most of her life taking care of other rather than herself. She gave up her youth and her chance to find love and happiness to care for her ill and dying mother, and then took over as her father's hostess. Now facing replacement and obsolescence, Sabrina has a crisis of faith and self-confidence, and comes to the conclusion that she will henceforth "think of myself first." With that spirit, she kisses the near-insensible Mac, who realizes in his dream state that "his angel" is kissing him, and he deepens the kiss.
He kissed the angel, the woman whose kindness had kept him alive. There was magic in this kiss. Hope. And he was not about to let her go.
Rather unexpectedly, something rather more than a kiss ensues. So the rest of the novel deals with emotional issues (Sabrina doesn't even know his first name!), finding yourself, a missing father and minister, and who the actual murderer is.
"The Groom Says Yes" is a highly enjoyable book with great characterization, clever dialogue, a decent mystery, and an overall message of forgiveness and finding yourself. A satisfying ending to the "Brides of Wishmore" series, and I'm sure you'll be as sad as me to see the end of this series.
Book Info:

Published September 30th 2014 by Avon
He had a noose around his neck and a price on his head…
Sabrina Davidson, dutiful daughter, avowed spinster, thought she'd secured a place for herself in Aberfeldy society—until her hard-earned acceptance of her fate is challenged by the arrival of Cormac Enright, Earl of Ballin, trained physician, soldier of fortune, and convicted felon.
A prim and proper miss was the last thing he needed…
Mac is determined to clear his name, but first he has to find the man whose testimony sentenced him to a hangman's noose. Of course, Robert Davidson is missing and protecting Mac is Davidson's daughter, the most entrancing, frustrating, beguiling, stubborn woman Mac has ever met.
And it doesn't help that he has already tasted her kisses. Or that he has found in her a passion for life and adventure to rival his own.
Mac has turned Sabrina's world inside out—but what will happen when he leaves?
Or will the Groom Say Yes?