In The Guest Cottage by Nancy Thayer, Sophie Anderson's well-ordered married life implodes when her husband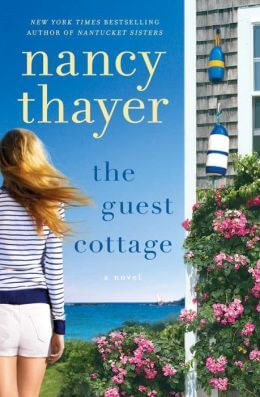 suddenly announces he wants a divorce. And that he's going to marry his younger assistant. So the mother of two takes advantage of a friend's offer to rent a house on Nantucket for the summer for what she hopes will be a relaxing getaway. One where she can figure out what her next step should be. But a mix up with the rental puts Sophie and her kids together with Trevor Black and his son for the next two months. What starts off as an awkward merging of routines turns out to be a blessing that brings happiness, camaraderie, and a rush of feelings she hasn't felt in years.
'They said that when on door closes in your life, another door opens. But what if the entire house comes down around you, exposing you to a universe of possibilities? How did you take the first step? How did you play that first note? Sophie smiled. Maybe she already had.'
Widower Trevor is trying to help his four-year-old son Leo heal after his behavior becomes more and more worrisome since his mother's death. He hopes a vacation will ease some of the anxiety and let Leo return to the curious and sweet little boy he loves. Their plans are interrupted when Trevor realizes he will be sharing the house with Sophie and her two children. He's worried more chaos around Leo will set him off. Then there's Sophie. Trevor is drawn to her in a way he wasn't expecting, and before long he's trying to figure out how to keep her and her kids in his and Leo's life forever.
"You and I seem to — fit. Our kids fit. It's been that way since we first walked in the door. We've got something special here, not just you and me, but absolutely you and me, and then the kids, too. I don't want to lose it."
The Guest Cottage was a picturesque seaside adventure, perfect for summer reading when you want romance, family dynamics, and self-realization.
Normally when I think of women's fiction, I think of in-depth, deeply emotional, heartrending stories. And while Nancy Thayer wrote a story that did have emotional depth, it was a bit more factual while we were following Sophie and Trevor on their daily path toward healing. I at first thought that Sophie was detached emotionally from everyone, especially when she didn't have much reaction after finding out her husband wanted a divorce. However, as the story progressed, there was a definite reason for her almost nonchalance about it, and things started to come together for me with Sophie's character, and with how her children reacted.
Trevor was an interesting character. I loved that he was such a great dad to Leo, if not a bit on the anxious side. He had moments when he probably came across as immature or fun-loving to some readers, but I thought it was more of his geeky/quirky personality shining through. I didn't always agree with Trevor when it came to his decisions about his love life, but it did make for some interesting scenes. And my heart went out little Leo, after losing his mother and trying to process what had happened. He was such a special little guy and completely stole my heart. *sniff*
Complicated relationships, friendships, and personal changes abound in Nancy Thayer's latest offering. If you're looking for a summer read to keep you interested, this one might be for you.
Book Info:

Published May 12th 2015 by Ballantine Books |
Sensible thirty-six-year-old Sophie Anderson has always known what to do. She knows her role in life: supportive wife of a successful architect and calm, capable mother of two. But on a warm summer night, as the house grows quiet around her and her children fall asleep, she wonders what's missing from her life. When her husband echoes that lonely question, announcing that he's leaving her for another woman, Sophie realizes she has no idea what's next. Impulsively renting a guest cottage on Nantucket from her friend Susie Swenson, Sophie rounds up her kids, Jonah and Lacey, and leaves Boston for a quiet family vacation, minus one.
Also minus one is Trevor Black, a software entrepreneur who has recently lost his wife. Trevor is the last person to imagine himself, age thirty and on his own, raising a little boy like Leo—smart and sweet, but grappling constantly with his mother's death, growing more and more closed off. Hoping a quiet summer on the Nantucket coast will help him reconnect with Leo, Trevor rents a guest house on the beautiful island from his friend Ivan Swenson.
Best-laid plans run awry when Sophie and Trevor realize they've mistakenly rented the same house. Still, determined to make this a summer their kids will always remember, the two agree to share the Swensons' Nantucket house. But as the summer unfolds and the families grow close, Sophie and Trevor must ask themselves if the guest cottage is all they want to share.
Inspiring and true to life, The Guest Cottage is Nancy Thayer at her finest, inscribing in graceful, knowing prose matters of the heart and the meaning of family.