The Hard Truth About Sunshine by Sawyer Bennett: When I am picking out a book to read, I admit that I avoid stories that might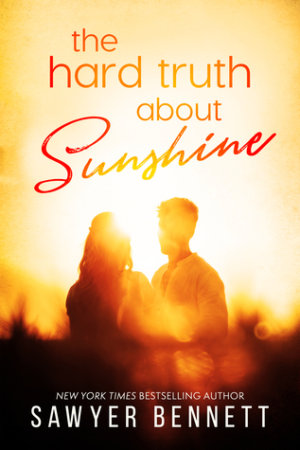 make me sad – even romance novels where I am assured a happily ever after. I am a bit of an emotional wimp; therefore, I was leery of Sawyer Bennett's The Hard Truth About Sunshine after reading the book's description. The story tackles tough subject matter, and I was pretty sure an ugly cry would be in my future.
I am extremely thankful that I pushed through my fears and read The Hard Truth About Sunshine. It is a beautifully written and emotional story with complex and endearing characters that the reader will never forget. People often scoff at romance novels saying they are not "serious literature," but I challenge anyone to read this poignant and moving book and still make that assertion. The Hard Truth About Sunshine made a permanent impression on my heart has a place on my keeper shelf.
Christopher Barlow is a very angry man. He's a veteran who saw a friend and comrade die in an IED explosion in Afghanistan while he lost part of his leg, three of his fingers and has permanent, painful scarring along his arm. He spent thirteen months rehabilitating at a veteran's hospital, and his military career is over. His girlfriend and family essentially abandoned him, and he is alone and struggling to adapt to his new, harsh reality. He's twenty-six and no longer cares about anyone or anything, which causes him to make poor decisions that result in twelve weeks of court-mandated group therapy.
The support group consists of a counselor, a seventeen-year-old boy diagnosed with terminal cancer, a twenty-one-year-old woman with progressive blindness and a twenty-four-year-old sexual abuse victim. All four of them have experienced unimaginable pain, and Christopher doesn't want to be a part of the group or share his feelings. He has a horrible attitude that he displays often and refuses to participate in a meaningful way.
In exchange for fewer meetings, the four almost-strangers agree to take a road trip together from North Carolina to California in order for the seventeen-year-old to see the Pacific Ocean before he dies. Christopher's not excited about the trip, and he continues to act like a jerk as they begin their trek. The forced closeness on the road and the shared experiences along the way push him and the others to begin opening up and revealing themselves. They form a powerful bond that has the potential to lighten each of their tremendous emotional burdens. What started out as a way to get out of a group therapy, becomes the trip of a lifetime. None of the four will ever be the same and neither will the reader.
I will never look at a blind person, abuse victim, cancer patient or – especially – a veteran the same again. Ms. Bennett has written such a vivid portrayal of these four complex characters that I feel like I got to know them on a fundamental level. I felt their pain, their heartbreak and their joy. The Hard Truth About Sunshine is inspired by Ms. Bennet's real-life experience with a wounded veteran, and she depicts a version of that interaction in the story. It is a profoundly moving scene, and I will never forget it.
I won't sugarcoat The Hard Truth About Sunshine; it is a gut-wrenching story that left me breathless, tied my stomach in knots and made me cry several times and for thirty minutes after I finished. But I can promise the tears and gut-wrenching emotional are worth it. There are even laughs along the way and, of course, a satisfying and happy ending.
Life throws everyone painful curve balls, and the pain sometimes does not feel survivable. If we read about similar harsh realities within the safe world of a fictional world where the characters overcome and even thrive after these difficulties, it creates a powerful memory that can provide us with hope when we face challenges. The Hard Truth About Sunshine takes the reader on an unimaginable journey reminding us that love – whether from a lover, friend, family member or fellow therapy participant – has the power to alleviate some of our pain and mend our hearts.

Book Info:

Publication: 3/28/17 | Self-Published – Sawyer Bennett |
New York Times bestselling author Sawyer Bennett has written her most gripping and poignant tale yet. Provocatively heart-breaking, audaciously irreverent and romantically fulfilling, The Hard Truth About Sunshine exposes just how very thin the line is between a full life and an empty existence.
Despite having narrowly escaped death's clutches, Christopher Barlow is grateful for nothing. His capacity to love has been crushed. He hates everyone and everything, completely unable to see past the gray stain of misery that coats his perception of the world. It's only after he involuntarily joins a band of depressed misfits who are struggling to overcome their own problems, does Christopher start to re-evaluate his lot in life.
What could they possibly learn from one another? How could they possibly help each other to heal? And the question that Christopher asks himself over and over again… can he learn to love again?
He's about to find out as he embarks upon a cross country trip with a beautiful woman who is going blind, a boy with terminal cancer, and an abuse victim who can't decide whether she wants to live or die.
Four people with nothing in common but their destination. They will encounter adventure, thrills, loss and love. And within their travels they will learn the greatest lesson of all.
The hard truth about sunshine…
Warning: This book deals with some tough issues including suicide and sexual abuse.