The Hardest Hit by Jennifer Fusco: Trevor never had much of a family,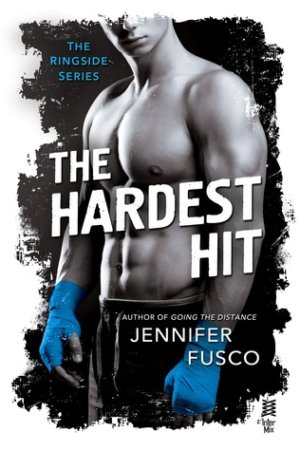 but he's found his own type of family at Stamina, the gym where he boxes, and with the girls he protects at a gentlemen's club. Trevor has a strong protective drive, which is one of his reasons for continuing to work at the club rather than focus solely on his own boxing career. He loves the sport of boxing and can't wait until he has a real shot to make a name for himself.
Chelsea loves helping people. Chelsea is a dedicated doctor who will go above and beyond for any of her patients. She's from a family of doctors and her family has certain expectations for how she should live her life. It's too bad that she would rather spend time volunteering at a free clinic over sitting on some executive board.
When Trevor finds himself in the hospital, his only concern is when he can get back to the ring and training. The only good part of his hospital stay is when Chelsea comes on board as his doctor for a second opinion. The attraction is immediate and Trevor can't quite help himself from flirting with her.
With that she busted with laughter. "No. I'm quite good. Thank you."
He flashed a boyish grin. "What is it with the customer service in this place? I can't seem to get anything I want."
"You poor man," she teased, and got up from the chair. "I'll be back to check on you later."
Chelsea is determined to help Trevor, but she can't cross that line with her patient no matter how much she wants to. He's so passionate about boxing and determined to get back into the ring, no matter what. Trevor can be quite charming and persuasive as he convinces Chelsea to spend more time with him. He's a really good guy, and that can be hard to find.
"They're virgin margaritas. You're still in recovery. No alcohol. Haven't I taught you anything?" she teased.
"Yep." He closed his eyes and lifted his face to the sun. "You taught me to never go on vacation with your doctor."
The Hardest Hit is an entertaining and sexy sports romance. Jennifer Fusco builds the tension and anticipation as Chelsea and Trevor fight for what they want and what's important. Ms. Fusco created a real sense of family at Stamina with interesting characters. The Hardest Hit can be read as a standalone book in the Ringside series. Fans of Jennifer Snow and Jeanette Murray will enjoy The Hardest Hit.
Book Info:

Publication: September 20th 2016 | Headline Eternal | Ringside #3
Welcome to Vegas. You've got ringside seats to the world's hottest boxing match. Watch fearless champions. Meet the women that knock them off their feet. Fans of Katy Evans, Jamie McGuire and RJ Prescott – let's get ready to ruuummble.
Ready for another round? Don't miss Books One and Two in the series, Fighting For It and Going The Distance.