The Heir of the Castle by Scartlet Wilson: Mary Laurie Jenkins lived, ate and breathed work. After all she was a lawyer in London, what else was there to do? However it had started to have serious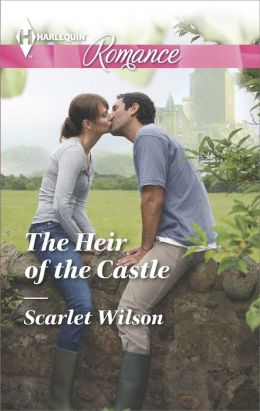 affects, like the headaches that never went away. Not to mention she missed her dad. Even after ten years she really missed him and with her mom in Portugal she was all alone.
Callan McGregor loved Angus, he was the one who had practically raised him. He was the one who taught him to be a man, to plan and yet to follow his dreams. Yes there was a lot of years between the two men but they were best friends. So what is Callan to do when his best friend dies and the only real home he has ever known is thrown into turmoil?
The letter. The scary letter from the solicitors office stating Laurie is actually a part of a family changes everything. It changes all Laurie has ever known to be true. It holds what Callan believes to be his future. The only question is will that letter turn out to hold the future happiness for Laurie and Callan or will it only bring more heartache to them both?
Ms. Wilson's story is so sweet and honestly at times made my heart ache for both of them. Though this is a romance and yes has romance in it, this story is more about family and what family means. It's not about who's blood is running through your veins, it's about who is running through your heart. If you don't believe that, read this story and you will understand. The aha moment for them both is so sweet and sentimental that you can almost forgive their stupidity earlier. This is definitely a tender heart warmer.
Book Info:

Publication: May 6th 2014 by Harlequin Romance Series , #4425
The surprise inheritance: a castle!
When the closest person tycoon Callan McGregor has to a father dies, it's down to him to organize the inheritance of Annick Castle. And the most suitable candidate seems to be stunning lawyer Laurie Jenkins.
Even though she makes the usually brooding Callan's pulse race, this is business—he cannot afford a distraction. But she's a bubbly breath of fresh air who shakes the castle and Callan to its foundations. This time, he's not going to walk away—from either his home or from Laurie&#133