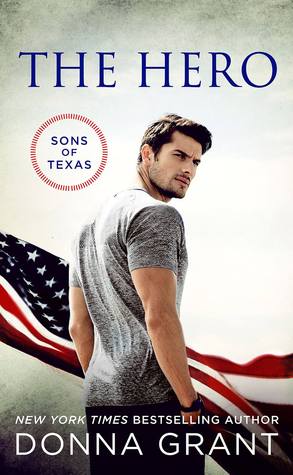 The The Hero by Donna Grant is the first book in the Sons of Texas series. Russian embassy worker Natalie Dixon is asked by her ex's father, Orrin Loughman, to keep an eye out for anything relating to something called Ragnarok. Not sure what it is, when she comes across a file on her boss's desk with that name, she reports back to Orrin. Now Orrin is missing, his brother and sister-in-law have been murdered, and Natalie's life is in danger. Orrin's three sons, Wyatt, Owen, and Cullen–all special ops military– are pulled from their respective missions to find Orrin and Ragnarok.
Natalie isn't thrilled to see Owen again. Fourteen years earlier she thought they were on their way to spending their lives together. Owen, as much as he loved Natalie, felt he had to let her go. As much as she tried, she never forgot the man who had her heart, and now he's determined to protect her, as well as convince her to give him a second chance.
This story is fast paced, action packed, and filled with twists and turns. Not only does the group need to figure out who's heading up the Russians that created the biochemical weapon, they need to figure out who has Orrin and who the leak in the U.S. government is.
The author does an excellent job of blending the romance between Natalie and Owen with the suspense of the biochemical weapon storyline. Neither one overshadows the other and they flow seamlessly together.
I'm curious as to why there's a lot of hostility between Wyatt and Callie, a member of Orrin's team. At first I thought it was only because Callie was angry with all three sons for avoiding their father for years, with Wyatt having no contact in ten years, but we find out their feud began well before that. I'm looking forward to their story to find out what happened between them to cause all the anger.
I will warn readers that the storyline will continue in the future stories. If you're expecting to have everything wrapped up in this one, you might be disappointed. On the bright side, it gives readers something to look forward to. I can't wait to read about Wyatt and Cullen and to see what happens next.
Donna Grant has created a well-written, thrilling story. If you enjoy romantic suspense and or second chance romances, The Hero is not to be missed.
Book Info:

 December 6, 2016 | St. Martin's Paperbacks | Sons of Texas #1
Owen Loughman is a highly-decorated Navy SEAL who has a thirst for action. But there's one thing he hasn't been able to forget – his high school sweetheart, Natalie. After over a decade away, Owen is returned home to the ranch in Texas for a dangerous new mission that puts him face-to-face with Natalie and an outside menace that threatens everything he holds dear. He'll risk it all to keep Natalie safe – and win her heart. . . .
Natalie Dixon has had a lifetime of heartache since Owen was deployed. Fourteen years and one bad marriage later, she finds herself mixed up with the Loughman's again. With her life on the line against an enemy she can't fight alone, it's Owen's strong shoulders, smoldering eyes, and sensuous smile that she turns to. When danger closes in, she holds close to the only man she's ever loved…