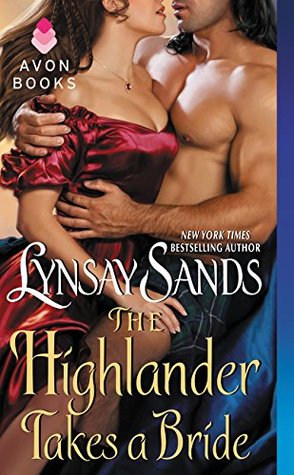 In The Highlander Takes a Bride (Highlander #3) by Lynsay Sands, Saidh Buchanan has never given much heed to being raised wild and free like her seven brothers. Of course her mother tried to instill values and the ways of a proper lady into her, but playing rowdy games was more fun. Saidh almost wishes she had paid more attention when she comes face-to-face with sexy Laird MacDonnell. But the threats against their safety while she visits at the laird's castle soon take precedence over passion. Well, almost.
He opened his eyes to see that she had one brother in a headlock and was viciously twisting the ear of the other. Damn, she did not fight fair, he thought with a grin. "Good morn, sweetling," he said when she glanced his way and their gazes met over the heads of her brothers.
Saidh blinked, then grinned at him and managed a breathless, "Good morn, m'laird."
Greer MacDonnell is still fitting in to his new role as laird after the suspicious death of his cousin. Family drama gets pushed aside, however, when the lovely and beguiling Saidh descends upon the property. He can see himself spending time with her in his arms very easily but she proves to be quite the challenge. As strong as the attraction is between them, they spend their time butting heads about everything. Add to that, the attempts on Saidh and others on the property, and Greer is determined to keep the lass and his family safe from harm. Even if it puts himself in harm's way.
"I can walk," she protested with a scowl.
"I ken it," he assured her. "But I like the feel o' ye in me arms."
Saidh blinked at his claim, her struggles stopping as he started up the stairs. "Ye do?"
"O' course I do, ye daft woman. Why do ye think I married ye?"
The Highlander Takes a Bride was a highly entertaining historical romance that blended humor, mystery, and passion together effortlessly.
Now this was a fun story! Lynsay Sands always has interesting characters in her books, regardless of genre, but boy did we hit the jackpot with the cast this time. Our hero Greer was loyal, rough-around-the-edges, and full of sinful charm. Our heroine Saidh was as feisty as they get, independent, and acted as outrageous as her brothers. Speaking of which, her numerous brothers were absolutely adorable in their protectiveness of Saidh and their dynamic together had me in hysterics. Loved. Them.
The whodunnit plot kept me intrigued as well. As sizzling as the attraction was between Greer and Saidh, trying to figure out who was intent on harming them held my attention just as much. Ms. Sands was able to keep me guessing until the last part of the book, which I appreciated a lot. All of the characters, even the secondary ones, were well-thought-out and worked together perfectly in every scene. I especially got a kick out of young Alpin who was always after both Greer and Saidh to act proper. (Good luck with that)
Handsomely rugged guys in kilts. A woman who curses like a sailor and wields a sword while wearing a gown. Murder and intrigue. Family drama. What more can you ask for in a Scottish Highlands novel? Not much, if you ask me.
Book Info:

July 28th 2015 | by Avon Books | Highlander #3
A bold, seductive laird meets his passionate match in a scintillating Highland romance from New York Times bestselling author Lynsay Sands…
Sword fighting, swearing, and riding astride come naturally to Saidh Buchanan. Simpering and holding her tongue—definitely not. Raised alongside seven boisterous brothers, Saidh has little interest in saddling herself with a husband… until she glimpses the new Laird MacDonnell bathing naked in the loch. Though she's far from a proper lady, the brawny Highlander makes Saidh feel every inch a woman.
She has an angel's looks, a warrior's temper, and seeks out his kisses with wanton eagerness. Little wonder that Greer is intrigued by his comely guest. When reckless desire overtakes them, he's more than willing to make an honest woman of her. But Saidh is the target of a hidden enemy, and Greer faces the battle of his life to safeguard the woman he wants above all others.