In The Honeymoon Prize by Melissa McClone, Addie and Nick have known each other for what seems like forever. He first proposed to her in kindergarten, but it seemed they were destined to a lifetime as friends only. They have both been attracted to the other at different times, not acting on it, not wanting to ruin a friendship. When it seems like Addie's world is falling apart, Nick is there for her. He offers a solution that will help both of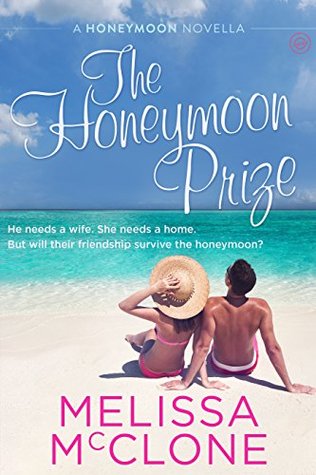 them. But can either of them last a 5 year marriage of convenience?
Keeping up the facade is even more difficult when they head off to a private island in Fiji for The Honeymoon Prize they've won, completely unaware that they will be part of a reality show. Soon the lines start to blur and it doesn't feel like such an act anymore. But is it real or not? What will happen when the honeymoon is over?
The Honeymoon Prize was a fast paced, intriguing novella. I love the setting Melissa used, she took me right there…I can feel and smell the tropical air and the water. Addie and Nick are great friends but they've kept things hidden too, and it was great to be along for their combustible ride. They are a couple who are so obviously connected in so many ways and they have fun together despite everything which I love. I liked that they were up front and honest as things progressed. Nick and Addie are great characters who drew me in and made me want to know so much more about them.
There were just enough secondary characters in The Honeymoon Prize, and I really liked how Melissa brought them in and used them in a positive way, especially for Addie. You will see what I mean when you read The Honeymoon Prize.
I'd recommend The Honeymoon Prize to any romance reader.
Book Info:

Published June 29th 2014 by Tule Publishing Group
He needs a wife…
Single bodyguard Nick Calhoun has been given an ultimatum by his boss—find a wife or lose his cushy, high-paying job. Clients' wives are hitting on him and putting Nick, and his boss, in hot water. But monogamy? He's never been a white picket fence kind of guy, and he's not about to embrace the happily married lifestyle now. He needs a wife who doesn't care about his steamy, extra-curricular love life…and he knows just the woman to fit the bill.
She needs a home…
Adalaide Sinclair spent years caring for her ill grandmother. Upon Grammy's death, she's stunned to find herself evicted from the only home she's ever known and labeled a thief by her inheritance-hungry family. Addie needs to find a place to live and a job—fast. So when her childhood friend, Nick, proposes a no-sex marriage of convenience, she puts her dreams of true love and happily-ever-after on hold. Finding Prince Charming can wait a little longer, right?
But will their friendship survive the honeymoon?
When Nick and Addie unexpectedly win a dream honeymoon, they decide to go their separate ways during the ten-day vacation. Too bad a camera crew is waiting for them at the tropical paradise. Acting like a head-over-heels bride and groom for reality TV wreaks havoc on their no-sex agreement…and blurs the line between fantasy and reality. Will Nick and Addie remain married in name only, or will a romantic honeymoon for show turn them into true newlyweds?