In The Honeymoon Trap by Kelly Hunter, Eli and Zoey have been on-line gaming partners in a virtual world every Friday night for 2 years. When he's on line, Eli can escape to a world where nothing is really real, where he doesn't have to communicate real life stuff. When his brother's become involved and 'meet' Zoey, they decide it's time for Eli to stop hiding and start living again. Pushing Eli to go to a gaming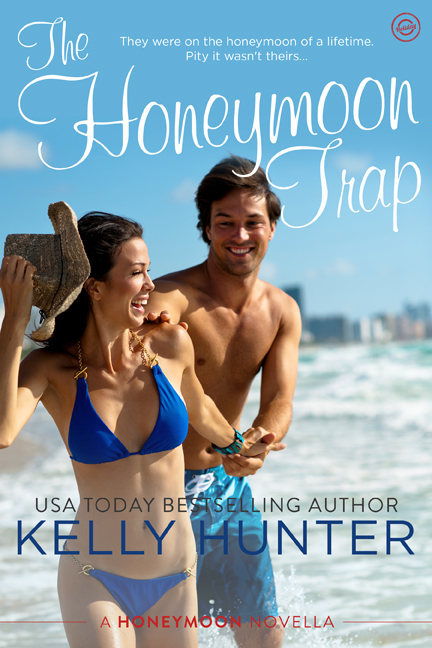 conference where he'll not only meet Zoey but room with her seems like the perfect idea. Especially when the brothers book them the Honeymoon Suite!
Eli is not looking for love though. He lets the past and what happened there dominate his life. Zoey has her own problems, but she definitely doesn't let them pull her down. She embraces and lives life. When she can feel the attraction between her and Eli, she's excited for it and interested to see where it could go. An attraction Eli doesn't want but can't ignore, an attraction Zoey accepts as a good thing and starts falling for Eli. The chemistry between them is heating up… What started out as a virtual friendship suddenly is on the verge of becoming so much more if they will let it. Will they? Can Eli finally move on from the past that haunts him and look forward to the future?
Kelly gives us an ultra modern romance in The Honeymoon Trap with Elia and Zoey. With a unique concept and well paced writing, The Honeymoon Trap has both funny and more serious elements to it…just like real life. I really liked Zoey's character. Despite her problems she is happy, has a very positive outlook, and lives in the present. I also liked how even when she wasn't sure where things would go with her and Eli she didn't become clingy. Eli has never moved on from the death of someone he loved 5 years ago. He is comfortable in his life (alone) and with his on line friends. I saw a lot of personal growth in Eli, it was really sweet and I was so happy to see him moving on, even if it is a struggle for him. He is way too young to not give the future or any other woman a chance!
Eli's brothers are great secondary characters, I'd love to meet them again! Since it's a novella, there isn't a lot of background on anyone, but enough that it is easy to get to know Eli and Zoey.
If you are a romance reader looking for a fast paced, fun, uber modern read, you'll enjoy The Honeymoon Trap!
Book Info:

Published July 6th 2014 by Tule Publishing Group | Print Length: 104 pages
They were on the honeymoon of a lifetime. Pity it wasn't theirs.
Eli Jackson has just married the woman of his dreams. Sure, it was part of an online role-playing game and not exactly real, but he totally dominated the wedding battle that followed and his lady wife was very impressed.
Eli never imagined that his brothers would bestow on them a real-world honeymoon package at one of the Gold Coast's premier hotels. He never figured on costume designer Zoey Daniels being such fun. Together they're dynamite, but Eli's not looking for a real relationship and Zoey lives only for the day.
Besides, no one falls in love this fast. Do they?