The Hot One by Lauren Blakely: Sigh. The Hot One is sigh-worthy romance and classic Lauren Blakely – humorous, incredibly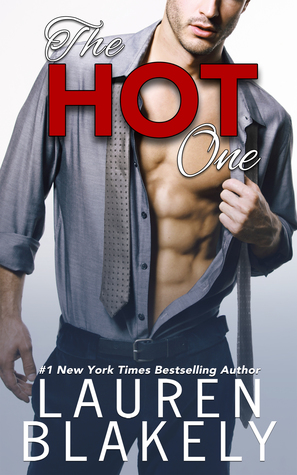 sexy and thoroughly entertaining. It has all the feels, and I cannot recommend it enough.
Tyler Nichols and Delaney Stewart fell in love while they were in college, and things between them were hot and heavy for one year. They were planning their future together when Tyler suddenly ended things saying he couldn't juggle law school and a serious relationship. He broke Delaney's heart, and she's never been able to forget – or forgive – him.
Eight years later, Tyler sees Delaney jogging in Central Park and that brief sighting awakens feelings he'd buried and ignored since their parting. He wants to reconnect with her and immediately seeks her out to ask her for a drink, but she doesn't want to get together because she is still pretty darn angry with him. She also worries she'd fall for him again.
Tyler realizes he needs to make a really big gesture to get in Delaney to see him; therefore, he pulls out all the stops. He cracks her defenses and they get together, but Tyler has a long way to go before she will ever open her heart to him again. Well, Tyler is determined to rectify the wrongs of the past and pursue a future. He slowly romances her in a sexy and heartfelt manner, and I think I fell in love with him along the way. He is charming, nice and honest about his past mistakes… he is utterly sigh-worthy.
The Hot One is the perfect second-chance romance demonstrating that two people can find love again and be even stronger together than they were before. As Tyler and Delaney excavate their past, readers will feel every gut-wrenching and heart-squeezing emotion the process evokes thanks to Ms. Blakely's deft hand. The sexual chemistry ignites and builds from page one and culminates with some very sexy and intense love scenes. The Hot One is everything you expect and oh-so-much more when reading contemporary romance and should not be missed. Sigh.

Book Info:

Publication: 2/27/17 | Self Published – Lauren Blakely |
At first glance, stripping naked at my ex-girlfriend's place of work might not seem like the brightest way to win her back.
But trust me on this count – she always liked me best without any clothes on. And sometimes you've got to play to your strengths when you're fighting an uphill battle. As a lawyer, I know how to fight, and I'm prepared to fight hard for her. I might have let her slip through my fingers the last time, but no way will that happen twice.
***
He's the one who got away…
The nerve of Tyler Nichols to reappear like that, stripping at my job, showing off his rock hard body that drove me wild far too many nights. That man with his knowing grin and mischievous eyes is nothing but a cocky, arrogant jerk to saunter back into my life. Except, what if he's not a jerk . . .? He's the one I've tried like hell to forget but just can't. Maybe I'm cursed to remember him. My money is on him being the same guy he always was, but what's the harm in giving him a week to prove he's a new man? I won't fall for him again.
But how do you resist the hot one…