The Hot Shot by Kristen Callihan: It feels like hockey has dominated sports romances lately, and this Texas girl has missed football,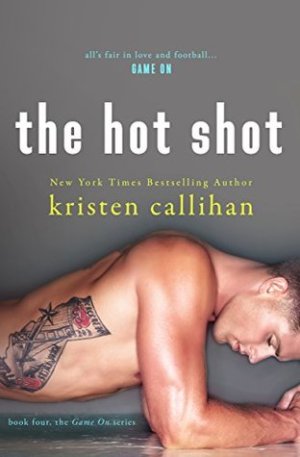 which is why I am thrilled Kristen Callihan is back on the field with the fourth book in her Game On series – The Hot Shot.
Allow me to cut straight to the chase – The Hot Shot is a outstanding and should be at the top of your to-be-read pile. Sports romance doesn't get better than this. 
Chester (Chess) Copper is a professional photographer, and she's photographing the charity calendar for the New Orleans's professional football team. She and quarterback Finnegan (Finn) Mannus meet during his photo session, and the sparks start flying before they even have a chance to introduce themselves.
Snap. Crackle. Pop.
Their chemistry is electric, and they are both dumbfounded by it because neither understands why they feel this intense attraction for someone that isn't their usual "type." He's a gregarious, pretty-boy jock with a very healthy ego, and she's slightly-cynical with magenta-tipped hair and little interest in football or football players.
Finn wonders if their attraction could turn into something more, but he has no idea what. He would like to explore his feelings for Chess even though the idea scares him; therefore, he suggests they become friends. Don't get me wrong – Finn wants her in his bed, but he knows she is looking for more than just sex, and he's never been in a relationship. He actually warns her that he's a bad bet in the romance department.
Chess hesitantly accepts his friendship offer, because she also feels this pull towards him and, frankly, he's hard to resist.  They begin texting and hanging out, and a friendship develops. Finn is adorable with his texts and phone calls to Chess; he begins to crave being with her. He feels a sense of calm when he is around her, which he has never experienced except when playing football. When she ends up needing a place to live, she moves in temporarily with Finn and neither can deny that their friendship has become so much more.
I was hooked on The Hot Shot from the moment Chess and Finn meet, and they meet at the very beginning of the book. They have an engaging dynamic with witty banter and smoldering chemistry, and I loved how they focused on their friendship as they sorted through their confusion over their feelings. I could wax poetic about Finn all day – he is funny, caring, thoughtful, sexy and charming. Although he didn't understand what he was happening with Chess, he didn't run from it, but – instead – he gave them both time to discover what was happening between them. I can't wait for the next book in the Game On series, and The Hot Shot is on already on my Best of 2017 list.

Book Info:

Publication: 4/18/17 | Self-Published | Game On #4
First we were friends. Then we were roommates. Now I want more…
What can I say about Chess Copper? The woman is capable of bringing me to my knees. I know this about five minutes after getting naked for her.
No one is more surprised than me. The prickly photographer my team hired to shoot our annual charity calendar isn't my usual type. She's defense to my offense, a challenge at every turn. But when I'm with her, all the regrets and darkness goes away. She makes life fun.
I want to know Chess, be close to her. Which is a bad idea.
Chess is looking for a relationship. I've never given a woman more than one night. But when fate leaves Chess without a home, I step up and offer her mine. We're roommates now. Friends without benefits. But it's getting harder to keep our hands off each other. And the longer we live together the more I realize she's becoming my everything.
Trick is… Now that I've made her believe I'm a bad bet, how do I convince her to give this player a true shot at forever?