In The Illegitimate Duke (Diamonds in the Rough #3) by Sophie Barnes, Juliette Matthews is still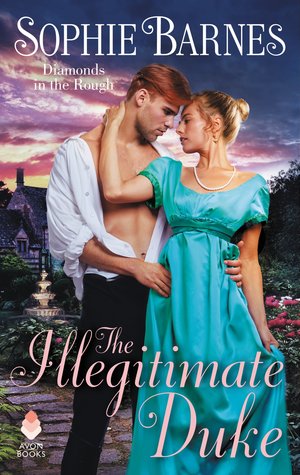 getting used to being invited to the most grand social events in London, having grown up nearly destitute in St. Giles. But once her brother Rafe inherited a dukedom, everything changed. Juliette's background isn't the only thing that sets her apart from other young women, however. Her thirst for knowledge and her plans to use her good fortune to help those in need is also undoubtedly different. It does earn her the respect of one very handsome physician, Florian Lowell, who is a family friend. Juliette knows the respectable man is someone she would like to get to know better. And a man with whom she can see herself easily falling for. But can she convey her feelings to Florian and convince him he is worthy of her attention?
'She'd met and danced with every eligible bachelor in London and none had provoked the depth of emotion she felt for Florian.'
Since unexpectedly becoming heir to a dukedom, Florian now has even more responsibility heaped onto his already heavy shoulders. Being a competent doctor is something he's worked very hard to become over the years. If for no other reason than to prove to himself that he is capable of goodness, considering his dark family origins. But when someone from his past reappears–someone Florian hoped was long gone–he knows he must be careful. This person could potentially shatter everything he holds dear. His career, his family name, and even his blossoming relationship with lovely Juliette. While Florian is in the midst of his own personal crisis and a deadly outbreak threatens the people in St. Giles, he accepts Juliette's offer of assistance. Even though it could put her in danger. But the courageous woman proves her acumen and somehow steals Florian's heart in the process.
"I do not excel at sharing my feelings with people. Hell, I rarely share them with myself, so you must forgive the clinical way in which I describe my affection."
The Illegitimate Duke was a charming, slow burn historical romance that had me hooked right away. How could it not, with its delightful characters, a diabolical villain, and even a bit of a medical drama that unfolded?
"You ought to know that I have tremendous respect for you, my lady… You also ought to know that it's the only thing stopping me from kissing you senseless."
I've been looking forward to Florian and Juliette's romance since I finished reading the previous book, The Duke of Her Desire, which was Juliette's sister Amelia's story. I just thought the pairing of a stoic, highly talented physician and an intelligent, do-gooder woman who had just come up in Society sounded intriguing. And Sophie Barnes did so well with this book, creating the perfect amount of awareness and tension between Juliette and Florian without losing the other threads of the storyline. Those other parts–regarding Florian's family as well as a typhus outbreak–definitely added another layer, making this an even more well-rounded story.
There was a whole lot to like about our main characters. Juliette was a strong female lead, with her good intentions to help others, her penchant for learning, and a strong moral compass. I loved the idea that she wanted to use her new fortune (since her brother became a Duke) to help people in need. Specifically those unfortunate souls in St. Giles who were in the midst of the outbreak of typhus. Juliette had some groundbreaking ideas to help aid in containing those who were sick, which astounded and thrilled Florian. I adored how he was not put off by Juliette's intellect. Instead, he shared with her his wisdom as a doctor and helped her expand her mind on many subjects as well. I felt like as a couple, they truly brought out the best in each other and helped to build one another up, which is nice in a romance.
Florian was a complex hero who had a rather sordid family history to keep quiet. My heart went out to him several times for how much he struggled with that past and how he wished to feel worthy of Juliette's affection. I know a lot of readers struggle with self-doubt in romances. But in Florian's case it seemed warranted. I really did love him right from the start, with his compassion for his patients, his innate goodness (which he didn't see in himself) and the way he treated Juliette so wonderfully. Florian was a nice mix of beta and alpha male. He was studious as one would expect of a physician. But his inner monologues showed how fiercely he wanted to protect Juliette–as well as his longing to claim her as his own. *swoon*
What a great addition to Sophie Barnes' Diamonds in the Rough series. Juliette and Florian were a match made in heaven, and even though their path to a HEA was arduous, the passionate, tender ending was well worth it.

Book Info:

Publication: Published August 28th 2018 | by Avon | Diamonds in the Rough #3
United in a common cause…
Juliette Matthews longs to be much more than just another pretty ornament in society. But using her recently acquired fortune to do some good is more complicated than she anticipated. Young ladies are not expected to risk their safety in helping the less fortunate. And the one gentleman who could help in her mission is stubborn, infernally handsome—and far too honorable to act on their mutual attraction.
And in a desire impossible to deny…
Florian Lowell has suddenly been made heir to the Duke of Redding—a far cry from his status as a dedicated physician. Yet even with his new role as the country's most eligible bachelor, the beautiful, fearless Juliette is utterly beyond his reach. The scandalous circumstances of his birth would destroy both their reputations if they became known. But when a more urgent danger threatens Juliette's life, Florian must gamble everything…including the heart only one woman can tame.