In The Importance of Being Alice (Ainslie Brothers #1) by Katie MacAlister, The romantic cruise Alice Wood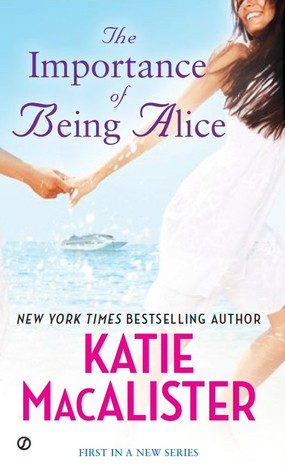 envisioned when she bought her ticket has ended up being one disaster after another. Not only did her fiancé dump her just before the trip, but the cruise ship is certainly nothing like the brochures pictured. The icing on the cake however, is when Alice finds out she will have to share her room with her fiancé's friend Elliott, thanks to a misunderstanding. What she thought would be a journey to get over her breakup and start anew soon becomes days filled with sexual tension between herself and her roomie. Who would have thought a British baron-slash-writer would be so intriguing and dreamy?
"I hope this doesn't make me a tramp, but there's just something about you that makes me want to do all sorts of extremely illicit things to you."
"Thank the lord," he said with a sigh, and kissed me, really kissed me, not just a little peck, or even an open-mouthed snog, but a full-bodied kiss…
Elliott Ainsley was hoping for peace and quiet aboard the ship so he could finish writing his latest thriller. Trying to meet his deadline at home while his melodramatic mother and many (mostly) adult siblings kept interrupting him just wasn't working. Then Alice came crashing into his life like a tornado and threw everything Elliott knew on its ear. He's certainly not looking for a relationship, and especially not one with a spontaneous, albeit lovely, American woman who is his total opposite. But he does the unthinkable and falls completely, absolutely in love with Alice. Elliott has a feeling that his life will never be the same again.
"I am exactly the right person for you. There has never been, and never will be, another person more perfectly suited to you. We complement each other in a way that should eliminate any doubts you might have."
The Importance of Being Alice is a quirky, laugh-out-loud whirlwind romance that tickled me from start to finish. This is definitely not a serious, introspective novel. Instead, be prepared to be entertained with the madcap adventures of Alice and Elliott.
I'm sure I've said it many times by now: I'm a big fan of intelligent, quirky romances that incorporate a lot of silly moments in the storyline. And here, author Katie MacAlister did just that. This lighthearted romp was big on the silliness factor while Elliott and Alice fell in love as they traveled the rivers in Europe. Now I know that this style may not be for everyone and may have too much of a focus on the funnier side of their new relationship. But it worked for me. I think maybe if you go into this story with an open mind, not expecting a heavy, emotionally charged courtship, you'll see the charm in their antics. I personally found Alice and Elliott's lightning fast attraction to be cute, and their fevered dialogue amusing.
Between Alice's upbeat and impetuous nature, and Elliott's aristocratic ways, you can imagine the hijinks that ensued. I really liked that this story was taken a bit further than I thought it would be. Meaning that it didn't necessarily finish with the end of the cruise. There were some twists and turns in the plot, especially toward the ending, that I honestly didn't see coming but were highly entertaining. I thought the secondary characters were just as lively as our protagonists, each lending something special to the story. There was quite the unique cast here, but to me they seemed to blend in well with Alice and Elliott and every campy situation they found themselves in.
If you've been searching for a fast-paced romance that will keep you laughing while taking you on an adventure, The Importance of Being Alice might just be the book for you.
Book Info:

Published January 6th 2015 by Signet | (Ainslie Brothers #1)
First in a new series!
From New York Times bestselling author Katie MacAlister comes a series about finding your own wonderland—through one roadblock at a time…
Nothing about Alice Wood's life is normal right now. Her fiancé, Patrick, called off their wedding and relationship only days before their nonrefundable wedding trip. And though a luxurious European river cruise for one is just what she needs, it's not what she gets…
Due to a horrible misunderstanding, Alice is now cramped in her "romantic" suite with one of Patrick's friends. Instead of cruising along the Rhine, Main, and Danube rivers sipping champagne with the love of her life, she's navigating the waters with a strange—yet mysteriously handsome—British aristocrat.
An author, Elliot is just looking for some alone time to write. But his stodgy, serious self is about to be sidetracked by a woman who seems to have jumped out of the pages of a fairy tale, one who is determined to shake up his life…and include him in her own happily ever after.