The Innocent's One Night Surrender by Kate Hewitt is the story of a woman whose desperate choices lead her into the arms of a man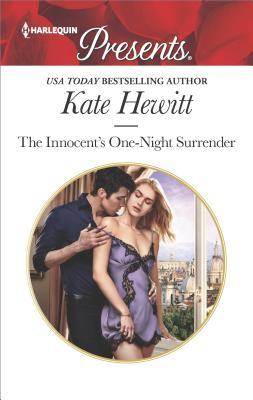 she never thought she'd see again.
When Laurel Forrester was a teenager, her mother Elizabeth married and subsequently divorced Lorenzo Ferrero when Lorenzo's son Cristiano discovered that Elizabeth had embezzled money from his father. Several years later, Laurel is in Rome to meet her mother's latest boyfriend, a sleazy man who tries to assault her. Escaping from his hotel room, she ends up in the penthouse suite of the hotel, which is owned by none other than Cristiano! Her teen-aged crush on her older stepbrother went nowhere of course, but now that she's an adult, she can't deny that she's still attracted to him. But she's not going to give into it so easily.
Cristiano isn't sure what kind of game Laurel is playing but doesn't believe she's innocent. After all, she's been raised by the woman who tried to cheat his father out of millions and who has since gone on to find one sugar daddy after another. He's willing to offer her his protection in return for certain favors – though he soon realizes that her innocence is genuine. They share a passionate night together, and to be sure there's no unexpected consequences he insists she spend the next two weeks with him until she can take a pregnancy test. Plus, in public it can be made clear that he's her protector, to prevent any further problems. Laurel agrees to be seen with Cristiano and they travel to several continental European cities. But when their two weeks is up will Cristiano be willing to admit that he's not ready to let Laurel go?
I really enjoyed this romance. Though they are loosely step-siblings, Laurel and Cristiano didn't develop a relationship such that when Cristiano told his father about Elizabeth's thievery he didn't take into account what the severing of the relationship with his father would do to Laurel. He soon discovers that Laurel has led a very different life than he'd imagined, having a career as a hospice nurse and staying far away from the sort of men her mother frequently dates. Cristiano comes across initially as cold and cynical, a result of his years of trying to protect his father from women taking advantage of him after the death of his mother. But he feels guilt too, when he comes to terms with how badly he misjudged Laurel.
Laurel is a smart and caring woman. She's attracted to Cristiano but it's not until he shows her some of his more positive characteristics that she surrenders her virginity to him. For the next few weeks they share some sensual scenes, even though she realizes that Cristiano has no intentions of being with her for the long term unless there is a baby to bind them together. There are some sweet scenes in the second half of the story where Laurel reconnects with her one time step-father and Cristiano comes to understand what he'll be missing if he lets Laurel go. The plot flows smoothly and Laurel stays true to herself throughout, making Cristiano the one who exhibits the most change over the story as he comes to admit his true feelings for Laurel. They get their happy ending with a sweet epilogue too. It's an entertaining read.

Book Info:

Publication: Dec 19, 2017 | Harlequin Presents |
Seduced by her rescuer…Desperate to escape a predatory suitor, Laurel Forrester has no one to turn to in Rome but her stepbrother, Cristiano Ferrero. A dangerous chemistry has always burned between them, even if he believes her to be exactly like her manipulative mother. And trapped in his luxurious penthouse, Laurel realizes how vulnerable she is to his raw magnetism…Cristiano desires Laurel just as much as he despises her. Intent on getting her out of his system, he proposes one night of sin. But Laurel's surprising inexperience only increases his thirst for her, and makes Cristiano determined to entice her to surrender again…and again!