In The Innocent's Shameful Secret (Secret Heirs of Billionaires #7) by Sara Craven, Selena Blake tried her best to convince her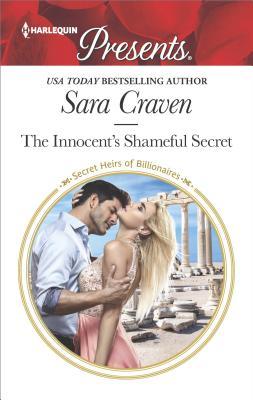 sister to return home when she fell in love with a man in Greece at a young age. But instead she left the beautiful location with a broken heart and a secret that would have the man she fell in love with resent her if he ever found out. Now years later, she finds herself returning to Greece to help her sister and hoping she doesn't run into Alexis Constantinou. However, it seems luck isn't on her side. Will they be able to overcome the secrets and lies of the past to find their happy ever after?
"Would you like coffee?"
She sat. "There's only one cup."
"How can that matter," he said softly, "when we have already shared so much?"
Clearly, he was not going to make this easy for her. She met the mockery in his eyes. "But not," she said, "for some time."
"Yet you are here now. Allow me to express my pleasure."
What an interesting tale Ms. Craven has penned in this story, which starts off in the present but bounces back to the past, giving readers a chance to see how Alexis and Selena's relationship was like when they were first together, what reasons split them apart and how they find their way back to each other to get a second chance at happy ever after. The way this story started had me feeling sorry for the heroine, because how could she accept her sister's husband's proposal to return to Greece when she was concerned about things that happened in the past. Why wasn't she able to convince her free-spirited and teenage sister to return home, so they could follow what their aunt wanted for their futures? How could she possibly face Alexis again when she's keeping such a big secret?
Although I thought the direction this story took was a tad frustrating with the past not being written as part of the heroine's back story, but actually as if it was happening in the moment, I did like the dialogue. It revealed how much Selena's life has changed for the better with her no longer being under her aunt's rule and how she's finally making her own decisions including how to get back the one person she's never given up hope of having back in her life.
Moreover, Selena is strong and brave in the way she took her sister's advice, but in some ways, those good decisions hurt her in ways she didn't realize until she comes face-to-face with the hero again. Since her aunt was a very spiteful woman unable to forgive what her nieces did. Selena is also hard-working and I liked how determined she was to pick up the pieces of her life after Alexis first broke her heart, especially since she had a good reason to. But most of all, I liked how she stood up to Alexis when they come face-to-face again. While Alexis, he's a jerk to her at first when they meet again, but I liked that when all the secrets and lies are revealed that he realizes how those that both of them should be able to trust have easily manipulated him. How could he honestly think Selena would do what he believes she did, especially when their bond was so special from the moment they first met?
She'd looked across the courtyard to where Maria Constantinou, Alexis's mother, was sitting quietly with Xander on her silk-clad lap, the pair of them engrossed in the story she was reading to him. "Really, you don't know how lucky you are."
"On the contrary," Selena said gently. "I really, really do."
Overall, I really enjoyed this story about two main characters finding it in their hearts to forgive in order to achieve their second chance at love. The way this story ended was wonderful with Selena knowing she couldn't give up on Alexis. Their love for each other is one that will last forever, no matter if they remained apart. So, why should they be miserable just because of her aunt's bitterness and the wrongful actions of his father? However, it was the epilogue that wrapped this story up nicely, because both Alexis and Selena realize they're very lucky to get a second chance at love and they're not going to waste that chance. I would recommend The Innocent's Shameful Secret by Sara Craven, if you enjoy the second chance romance trope.
Book Info:

Publication: April 18th, 2017 | Harlequin Presents | Secret Heirs of Billionaires #7
Claimed by his touch…
Alexis Constantinou haunts Selena Blake's every memory. Before his expert touch awakened her, she was nothing more than a naive schoolteacher. Now she dreams every night of his idyllic Mediterranean island, and the scorching affair that stole her innocence…
Left carrying his child!
But their brief time together left Selena with a shameful secret. And when family duty calls her back to Greece, she must face the man whose caress branded her as his! Seeing Alexis once more, Selena cannot ignore their still-sizzling passion, but dare she reveal the truth she's hidden from the world–the secret Constantinou heir!