The Irresistible Rogue by Valerie Bowman is the fourth book in the Playful Brides series.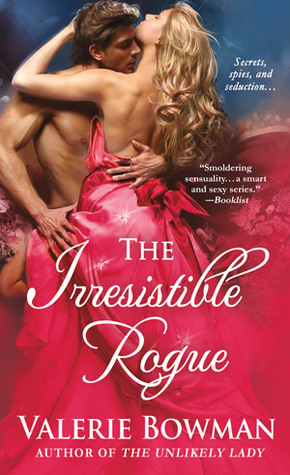 I previously read and thoroughly enjoyed book three, the Unlikely Lady and I was excited to see another book released in this series with some familiar characters.
Daphne Swift (younger sister to Julian, hero of book two of the Playful Brides series, The Accidental Countess) and Captain Rafe Cavendish might be married, but it's a marriage of convenience only – one that was necessary for Daphne to follow in her older brothers' footsteps as spies for the Crown so that she might pose as Rafe's cabin boy on their last mission. Sadly her eldest brother Donald was killed during that mission, a fact that Rafe bitterly regrets and seeks to avenge. Since then Daphne has returned home and the hunt for a 'real' husband is in full swing, her mother being unaware that Daphne is in fact already married, and her brother Julian having promised to help her get an annulment. But when Daphne hears that Rafe plans to seek Donald's killers, her excitement at helping him trumps her marriage problems and she finds herself once again in disguise and en route to seek her revenge too. When they were together the first time, Rafe was unaware that Daphne had lived with a crush on him for several years and nothing untoward happened. But this time, Rafe is seeing Daphne in an entirely new light. Can Rafe convince Daphne that he should remain top choice on her list of suitable husbands?
I really enjoyed this story! Daphne is a fun, precocious young woman, full of vigor and adventurous spirit. Though she knows that she should be looking for a suitable husband, one with a title, wealthy, and staid (aka boring), she can't help but wish she could have another adventure like the one she had with Rafe before, her knowledge of Russian having been the impetus for him bringing her along the first time to catch the Russian spies working for the French. She thoroughly enjoyed her stint as his cabin boy, feeling like she was finally contributing to her country and following in the footsteps of her older brothers. Her one amorous advance on Rafe was rejected however and she's put it behind her, determined now that she'll do the right thing in society and marry well. Rafe showing up at her 'almost engagement' ball puts a kink in her plans, as he makes it quite plain that her choice of husband is a poor one (in particular because she's already married to him!) , and sets out to show her that she should reconsider.
Rafe comes across as a loyal friend, a dependable man, one who has taken his marriage vow to Daphne seriously even if it was meant to be in name only. He's come to realize that Daphne has grown into a beautiful young woman, and his feelings for her are much more complicated than they used to be. When Daphne accompanies him on his latest mission, to catch the men responsible for Donald's death, their close quarters become much closer as they finally succumb to the deep attraction between them, one that Rafe is finally acknowledging. They share some steamy scenes together, consummating their marriage and in a nutshell, making it much more difficult for Daphne to consider another man for a husband. Rafe feels some guilt over this, in part because he knows that as a captain in the military he doesn't have the wealth or social standing that Daphne deserves. But it's not enough to stop him from showing her what they've been missing out on as husband and wife.
Besides the romance blooming finally between Rafe and Daphne, there are some exciting action scenes as they seek out Donald's killers. I really liked how the plot came together, picking up in pace in keeping with the action. The secondary characters, Daphne's family and their friends who've appeared in previous books in the series were equally important to this story and added lots of laughs and camaraderie. It's a lively tale, with interesting and fun characters and a couple who are well matched in their thirst for adventure and love. 4 stars.

Book Info:

Publication: Nov 3 2015 | St. Martin's Press | Playful Brides #4
Lady Daphne Swift comes from a family with two brothers who have proudly served the Crown. She may be a female, but she's willing to do whatever it takes to prove that she's as useful to the war effort as her brothers. She even went so far as to secretly marry a spy. The fact that she just happened to have been pining for Captain Rafe Cavendish for years didn't hurt matters. But after their first mission, when she realized their marriage had been strictly business, Daphne immediately wanted an annulment. The fiery Daphne has always been a multi-tasker and now she's hell bent on two things: finding the men who killed her brother and securing her engagement to another man to forget about Rafe forever.
As a spy for the War Office, Captain Rafferty Cavendish has been on dozens of missions. But one mission haunts him, the mission that resulted in the death of Daphne Swift's eldest brother, Donald. Rafe agreed to work with Daphne once and put her life in danger. Now he must find the men who killed Donald, avenge the family, and convince Daphne to give him one more chance. But Daphne's enlisted her other older brother, Julian, to help her get a quick and quiet annulment so that she can marry a fop who only wants her for her title and money. Can Rafe convince Daphne to give him one more chance, on the mission and with her heart?