The Italian's Christmas Secret by Sharon Kendrick is a sensual romance where the consequences of a one night stand lead to a sweet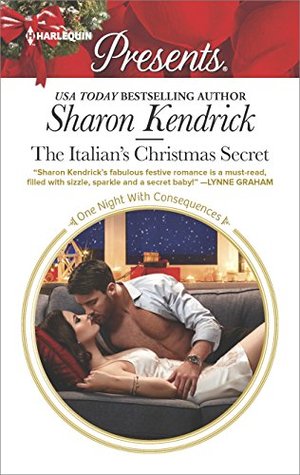 happy ending. Keira Ryan knows she's made a mistake taking a shorter route to Devon when the car in which she is chauffeuring billionaire Italian businessman Matteo Valenti gets stuck in a snow drift during a storm. Taking refuge in a nearby bed and breakfast, the one room available for them leads to a night of passion and pleasure – though in the morning, Keira awakes to find Matteo gone, having found another ride to get to the airport, and return home to Italy.
Ten months later, Keira has given birth to her son, Santino. Her circumstances have become quite desperate and she is resigned to calling Matteo for help. He insists that she come to Italy with him, and he will help provide for her and her son. What he doesn't tell her is that a clause in his father's will says that to inherit their ancestral family home he needs an heir. Since Keira has conveniently provided him with one, it all seems to be working in his favor. But when Keira finds out the truth will their fledgling relationship survive?
I quite enjoyed this story! Keira has an interesting occupation, having trained as a mechanic and now as a professional driver. Unfortunately once she's pregnant she loses that job and it's what compels her to contact Matteo. I liked how she was with her son, and her desire to see him well cared for, even if calling Matteo was her last resort. There were a few times where I would have liked to see her stick up for herself better, and some parts of the plot were predictable, but I definitely thought she and Matteo had good chemistry and their love scenes were very well written.
Matteo's mother died in childbirth, resulting in him having no real female caring influence in his life. A procession of nannies filled his mother's place but did not provide him with affection, and his father found it painful to be around him. Thus Matteo finds himself struggling to feel emotions around his new baby. He's attracted to Keira but that doesn't translate into deeper feelings until later in the story. He comes across as demanding and arrogant at first, but softens up as the story continues – just in time for his secret to come out. Fortunately Matteo has learned what really matters to him – he just has to convince Keira of it. They eventually get their happy ending and a lovely epilogue too.

Book Info:

Publication: Oct 17, 2017 | Harlequin Presents | One Night with Consequences
One night, one bed…one baby!
When chauffeur Keira Ryan accidentally drives her car into a snowdrift, she and her devastatingly attractive passenger must find a hotel…only to discover they'll be sharing a bed! Luckily, billionaire Matteo Valenti takes it upon himself to show virgin Keira just how to make the most of a bad situation—with the most sizzling experience of her life.
It's nearly Christmas again before Matteo uncovers Keira's secret. He may have resisted commitment his whole life, but now it's time to claim his son and heir…