The Italian's Pregnant Virgin by Maisey Yates: The Heirs before Vows series by Maisey Yates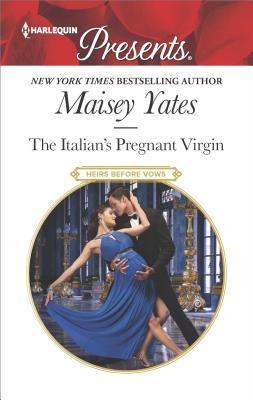 has a pretty self explanatory title, but the circumstances of this third story in the series, The Italian's Pregnant Virgin, are definitely unique. It's not uncommon to have a one night stand lead to an unexpected pregnancy in a romance novel, but I'm pretty sure this is the first time I've encountered this particular scenario.
Esther is a bright eyed innocent, fresh from a restrictive life in a religious commune. Leaving the only home and life she's ever known, she's in Rome taking in the sights and sounds and exploring the world around her. She wants to go to college, but knows she needs to earn more money than what she's been making as a waitress at the bar where she was able to get a job when she arrived. When a woman approached her with the idea of being a surrogate for her and her husband, it was the money involved that convinced her that it would be worth it. But now the woman has changed her mind, wanting Esther to terminate the pregnancy.
Esther believes the unborn child's father should have a say in what happens to the baby, but when she approaches Renzo Valenti, the heir to the Valenti fortune, he's completely in the dark. His now ex-wife planned all this behind his back and it's a complete shock to him (and frankly, unbelievable) that this woman could be carrying his child. At first he sends her away, but the thought that it could really be his child nags at him and he eventually seeks her out. Deciding that he wants the baby, he and Esther strike an agreement for her to live with him and carry the baby to term, with a pretend engagement to appease his family as surrogacy is illegal in Italy. No one needs to know the actual details of the pregnancy except them. But as Esther and Renzo spend time together, the attraction between them blossoms. Can their unexpected alliance lead to a happy ending?
I have to say that the plot idea of this one is pretty far-fetched, especially as Esther is pregnant through a surrogacy procedure (done in a neighbouring country since it's not possible to have it done in Italy) yet is still a virgin. It's hard to wrap my mind around the idea that a young woman in her twenties would choose to have a baby for another couple for the money. But Esther's upbringing is sufficiently unique to make her decision making not what the average young woman in her twenties would choose, so putting that aside and suspending one's disbelief about the circumstances that bring Esther and Renzo together, the story is quite enjoyable.
Renzo made some mistakes as an older teenager that resulted in a child being born that he is unable to lay claim to, a young woman who he sees in social circles but can never acknowledge as his own. It's this that makes him take Esther at her word (though he does investigate to determine that the baby is indeed his) and realize that he will do anything to keep the child in his life, including marrying Esther. He finds her a refreshing change from the jaded society women he normally associates with (and definitely a vast improvement over his crazy ex-wife!) and falls for her innocence and charm. She has no artifice about her, she says what she thinks, and Renzo finds that very attractive.They share some tender and sensual love scenes as Esther becomes his partner in more than just name only.
The contrast between Renzo's wealthy lifestyle and Esther's restrictive upbringing is quite stark. Esther worries about going from one man's control (her father) to Renzo's, though Renzo makes it clear that being with him means she'll still be able to do all the things she wants to, just with him at her side. It's not what she pictured for her future but neither did she envision having a baby so soon either. In the end, the two of them fall for each other and there is a lovely ending and epilogue to round out this tale of improbable beginnings leading to love.

Book Info:

Publication: Dec 20, 2016 | Harlequin Presents | Heirs Before Vows #3
"You will be my wife…"
Esther Abbott was backpacking across Europe when she was approached about being a surrogate. Desperately in need of the money, Esther agreed. But when the deal falls apart, she's left pregnant and alone, with no one to turn to…except the baby's father!
Learning he is to have a child with a woman he's never met is a scandal Italian billionaire Renzo Valenti can't afford. Following his recent bitter divorce and with an impeccable reputation to maintain, Renzo has no choice but to claim the child…and Esther as his wife!