In The Italian's Virgin Acquisition by Michelle Conder, Sebastian Castiglione will do anything to get his grandfather to step down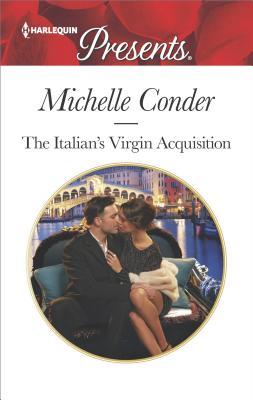 from being in charge of the family business so he can finally take the reins, even if he has to pretend he's in a relationship with Poppy Connolly. However, Poppy isn't easy to convince to go along with them being in a fake relationship until he grants her three wishes that could help her and her family. Yet, neither imagined their fake relationship could turn real, but that's the way it's headed. Will Sebastian be able to convince Poppy to give him a shot at forever after?
Poppy's gaze sharpened. "Is your grandfather unwell?"
"Would that influence your decision?"
Her frown deepened at the way he pounced on her unconscious show of sympathy. "You would really use that as a bargaining tool?"
Sebastian shrugged. "If that would work."
"You are such a shark!" Poppy exclaimed, both awed and shocked by his ruthlessness.
This was a story I could not get enough of because of the enchanting main characters; the dialogue that had me smiling, because Sebastian is so honest and ruthless when it comes to getting what he wants; and the ending that left me cheering for this couple's happy ever after, because Sebastian deserves all the happiness in the world after all that he's been through in his past and the guilt he's felt because of the deaths of those he loved. The way this story started charmed me and had me amused, because of how Poppy and Sebastian meet and what she does to him. Is she really so much of a disaster or does being around Sebastian make her nervous?
As for the dialogue, it was riveting and I loved every moment the hero and heroine conversed. The heroine doesn't know whether she can pull of the happy couple vibe with the people she meets at Sebastian's side, but I enjoyed how she gave it her best shot. I also liked how the dialogue was a wonderful combination of intense moments and teasing banter, especially the moment where Sebastian entices the heroine with three wishes, and Poppy does her best to make certain the hero knows what she thinks of him in regards to his likeness to various predatory animals.
"You're very possessive for a fake boyfriend," she commented.
His eyes held hers. "I'm very possessive full-stop."
Both the main characters entertained me from start to finish with their back stories; and their interactions that make the heroine wonder how she ended up with a man like Sebastian, because she's never felt like she fits anywhere, and yet, with Sebastian she feels completely accepted. Moreover, the heroine is strong and brave by accepting to be Sebastian's fake girlfriend and I liked how she went about proving that she and Sebastian are a couple by the descriptive emotions and reactions. Certainly, she may be innocent, but she knows just how to tempt Sebastian. While the hero, he's been through so much and it's hard to return to where his grandparents live and confront all the people he hasn't seen in a while, especially because of the date of the party and the significance it has towards why he feels so much guilt. I also liked how honest and ruthless he was towards getting what he wanted such as the heroine saying yes to his proposition and getting his grandfather to finally retire.
"I think you need to pinch me."
"To prove this isn't real?"
"To prove that it is." She gave him a tremulous smile. "I can't believe this is happening."
Overall, Ms. Conder has penned a marvelous read in this book where the chemistry was strong and the romance wonderful, because it illustrates perfectly just how much opposites attract. The way this story ended had me loving the hero even more than I already did, because of the advice he accepted from his grandfather; and how Sebastian makes things right with Poppy, even though it seems history is repeating itself with what she does to him. Furthermore, his words were beautiful and prove he's no longer afraid to love. I would recommend The Italian's Virgin Acquisition by Michelle Conder, if you enjoy the fake relationship trope or books by authors Caroline Mortimer, Cathy Williams, Kim Lawrence or Jennifer Hayward.

Book Info:

Publication: August 22nd, 2017 | Harlequin Presents |
The Italian's convenient deal!
Sebastiano Castiglione has a problem. His lifestyle of decadent hedonism has convinced his grandfather to retain control of the family dynasty. To take what's owed him, Bastian must prove he's a changed man. The sight of his stunning intern sparks an idea–and the flames of a burning desire!
Innocent Poppy Connolly will not become another Castiglione acquisition–but she cannot refuse Bastian's offer of three chances to change her family's life. Her response to his smoldering physicality is shocking, and it won't be long before the molten heat of Bastian's gaze melts away all her resistance…