The Lady of Royale Street by Thea de Salle is volume three in the Nola Nights series. This book revolves around Alex DuMont and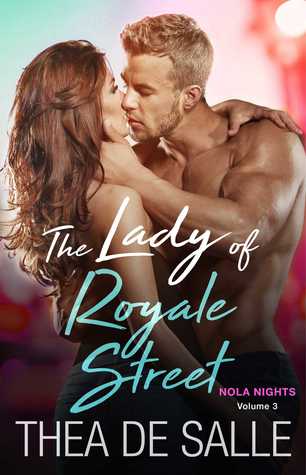 Theresa Ivarson. So, if you're familiar with this series, then you know Sol DuMont and Arianna Barrington are engaged. Well, in this book they are looking to tie the knot. Alex is Sol's brother and best man and Theresa is Arianna's maid of honor and best friend. It's up to Alex and Theresa to save the wedding because the current wedding planner sold them out and then ended up dying. To say they have their hands full, is an understatement.
Alex is the opposite of Sol. In personality and in appearance. He's more uptight than Sol and is a devout Catholic. He goes to confession biweekly and takes his faith very seriously. When he meets Theresa for the first time, it's not exactly a meet cute kind of introduction. In fact, he believes she's the press and tries to throw her out, breaking her camera in the process. When he finds out that the photojournalist is the maid of honor, he sets out to fix the situation. Awkward times ahead for these two, especially since they are both attracted to each other. Alex isn't one to give into his impulses, but Theresa is very tempting and makes him question everything.
Theresa is Catholic, as well, but doesn't follow the strict rules that go along with it. She understands what Alex is going through, for the most part, but it's getting to be too much for her. Their interactions either end up with him apologizing or them having some really hot sex!
I really loved the cover, it's lovely. It catches the eye and made me want to read the story just based upon it. I also love that setting. New Orleans always makes for a fun backdrop. I enjoyed the differences between Alex and Sol. Sol was a bit too much for me, in the first book, and I think I enjoyed Alex better. I liked Alex and Theresa together. It's really special when you find someone who shares the same faith as you and you could tell that their religion shaped them into the people they are. It was interesting to see Alex struggle with his faith, especially since it's not really something really shown in books. I enjoyed it, nonetheless. Overall, an entertaining read that was well-written.

Book Info:

Publication: August 21st 2017 | Pocket Star | Nola Nights #3
From the New York Times bestselling author of the NOLA Nights series comes a rollicking, sexy tale of opposites attracting in the midst of wedding planning.
Alex DuMont is everything his brother Sol isn't: regimented, serious, and devout. Between twelve-hour workdays, service to the church, punishing daily workouts, and bi-weekly therapy sessions, Alex is, as Sol once put it, "a kettle perpetually whistling as it boils itself to death." So when Sol announces his marriage to Arianna Barrington, heiress and society sweetheart, Alex is the absolute worst choice to be his best man. Sol asks anyway and Alex reluctantly agrees. It's only a week, after all, and Alex should be able to stop himself from throttling his big brother for a meager seven days. Probably. Maybe.
Theresa Ivarson is Arianna's best friend and the maid of honor. A decorated photojournalist who interrupts her globetrotting to stand beside her friend, Theresa is beautiful, witty, and unafraid to speak her mind. So when she is faced with working with the best man from Hell, a Viking who doesn't know how to smile, is bossy, and about as pleasant as a cactus, the sparks are bound to fly—and not in the good way. To make matters worse, Sol and Rain's wedding planner was hit by a bus the week before their special day, and Alex and Theresa find themselves at the center of a list-ditch effort to pull the wedding together. But when you can't decide if you want to kiss or kill someone, something's bound to break.