The Last Chance Maverick by Christyne Butler: Vanessa Brent is brilliant, or so the art world has been saying for years, since her teens actually. When her mother passed away she began to put her soul into her paintings. That was her life, well unless she was with her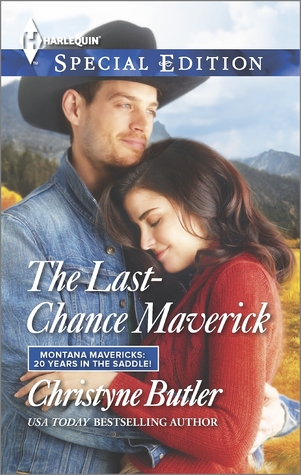 best girlfriend Adele, then all bets were off. Until the unspeakable happened, Adele was gone. What was Vanessa to do now? Armed with their joint bucket list she ran away, out west, maybe she might even meet a cowboy.
Jonah Dalton had been working harder and harder, determined to prove to everyone, his family, his friends, his crappy ex-wife and most importantly himself that he made the right decision to become an architect. When a project comes up back in his home town for a place he has ALWAYS loved how can he possibly say no, even when it means 3 months in his old hometown. He can stay there for three months, right?
When Jonah and Vanessa met there is something in the air. Something magically and amazing that blocks out everyone else. With these two and their pasts this has the potential to just be a quick fling, after all Jonah doesn't trust anyone and Vanessa is scared to be left, but what happens when things start to change? Can they trust each other to protect on another? Or will it all fall apart?
The Dalton family is such an amazing family. This book expands on the Maverick series as book 4. We continue to see the lodge worked on and get more and more details on the newcomers club. Ms. Butler has continued the series remarkably. The characters are well developed and further what we have already learned about them. The land continually is added to so our perceptions are deepened. What strikes in this book though is the typical role reversals that happen. Things we typically see a female doing the male is doing and so forth, but we are given the reasons and it makes reading so much richer. Definitely pick up this book and add it to your TBR pile if you are a fan of cowboys and overcoming trust and fear of loss issues.
Book Info:

Publication: September 16th 2014 by Harlequin Special Edition Series #2361
THE ART OF FALLING IN LOVE
RUST CREEK RAMBLINGS
Fellow Ramblers, have you heard that Jonah Dalton is back in town? The sexy, citified architect hasn't been seen round these parts since;well, we won't get into all that. Let's just say love has not been kind to our Jonah.
But our sources whisper he's recently been painting the town red with spirited artist Vanessa Brent. She's been methodically working her way through her bucket list; and taking Jonah along for the ride. You'd never guess that Vanessa's lust for life is masking her own heartbreaking secret. Can our hardworking maverick be the one to finally make her whole? Readers, we will let you draw your own conclusions; but we think this romance is a masterpiece in the making!