The Last Guy She Should Call by Joss Wood: Rowan Dunn's past had finally caught up with her. she'd been using her UK passport to get in and out of Australia, but her real South African passport revealed she'd overstayed her welcome there – and she'd gotten herself deported. So – sent back "home" cash poor and goods rich, on the cusp of turning around some lovely statuettes, she had to turn to an old friend to get her out of this jam.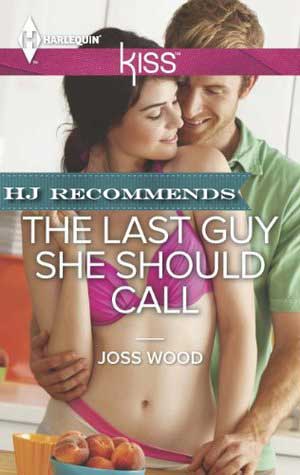 Sebastian Hollis remembered his little sister's best friend of course. She was at their house more than at hers. Her parents never could handle her – she was like a tornado and her parents were sedate and staid. His father accepted her as part of their family, but even then she had to shake free and escape as soon as she could. So Seb would take the opportunity to keep her in one place for a couple of weeks – until her parents returned from London. Maybe mend a few fences. What he didn't count on is that nine years could change the little brat he remembered into the sexy woman he met at the airport.
This was not the Seb that Rowan remembered either. He was a bit of a computer geek. He still wore the white hat – doing back-door security for huge corporations, but he definitely got in some exercise. Rowan had no choice but to stick around until she could get her deal done, but it wasn't going to be easy. They jumped right back in where they left off – bickering and pushing each other's buttons, however, this time there was a bit more tension behind it.
For the first time in quite a long time I wasn't sure how this book would resolve. A very nice surprise actually. Right up until the last minute I was left guessing which one of the leads would decide to 'give in'. (I don't really want to use more descriptive terms – I don't want to give away what the choices might be). While one of the main characters makes a major sacrifice, the other also bends a LOT in order to make it more palatable for them, so it's a very novel way to tie up their relationship in a pretty bow.
The one thing I got squidgy about was Rowan's family situation. It's uncomfortable, even after there is some discussion between the injured parties. Not good overall. Rowan got a bad deal, and an incident in her past that led to an arrest was a gross injustice as well. I felt very sad that these things happened to her and never really got taken care of, but she ended up happy in the end, so I can't really complain.
Loved the chemistry between Rowan and Seb – Seb is adorable, and his angst runs deep. Love to see more of his sister, but that's another subject. 🙂
Book Info:

Publication: February 1st 2014 by Harlequin KISS
She'd got his number…luckily!
For savvy antiques dealer Rowan Dunn life is good—until a passport error gets her deported back to South Africa! Stranded at the airport, Rowan can remember only two phone numbers—her parents' (definitely not an option!) and her best friend's brother's. As much as she hates it, Rowan knows she has no choice. It's time to call Seb Hollis and ask for help….
Seb is even sexier than Rowan remembers—and just as infuriating! He's always pushed her buttons, but at least now she knows how to push them back. Maybe it's time to start sleeping with the enemy—even though Rowan's sure there won't be a whole lot of sleeping going on…!