In The Magnate's Tempestuous Marriage (Marrying a Tycoon #1) by Miranda Lee, Scott and Sarah McAllister had the perfect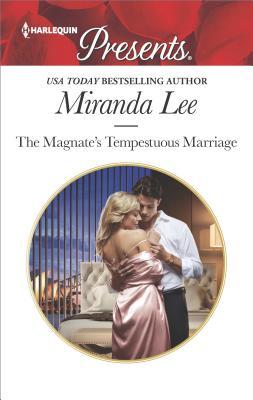 marriage until both were easily manipulated into believing the other was having an affair. Unable to forgive each other, Sarah decides she can't handle being around Scott. But when Scott realizes that Sarah is the one woman he can't live without, will he be able to convince her to move back home, or will they find the bond they once shared is broken forever?
"Haven't you wondered yet who might have sent those photos, Sarah? Blind Freddie can see that if what you say is true, then it had to be a set-up. Luring you to the hotel like that. Getting you to go up to a room. Tell me, was the PI actually in the room when you got up there?"
`Sarah frowned. "No…not at first. He left a note saying he had to step out and follow someone for a few minutes, He didn't arrive till some time later."
"Making it look like you had enough time to have sex with Leighton before you left."
What an evocative and poignant tale Ms. Lee has penned in this story, encompassing two main characters that lose faith in each other, but discover the power of love and all that it can conquer. The way this story starts with the prologue shows how quickly people can fall in lust or love, depending on your opinion. However, chapter one is where things really start to get interesting for this story, as both Sarah and Scott realize that there's never been any trust in their marriage, if they could so easily believe that the other may be cheating.
The dialogue had me hooked due to what the hero puts the heroine through when it comes to his accusations. I couldn't help but sympathize with the heroine, as she struggles to deal with the aftermath of their argument. Can she forgive him? Will time apart help her to decide on their future together? Will Scott be able to convince Sarah of how much he loves her? Will he find the person responsible of causing trouble for their marriage? However, because the dialogue was so intense due to the anger and hurt of both the main characters, it leads to some seriously strong sexual tension that shows how much of an effect these two have on each other, despite the fact that they're going through a rough patch in their marriage.
The heroine is strong and brave in the choices she makes in giving herself time to sort out what to do when it comes to her marriage. However, in saying that, Scott is her kryptonite and it isn't easy for her to resist him every moment that he's trying to win her back. Should she give Scott another chance? How can she possibly give him another chance when the trust they had for each other is broken? Certainly, it makes them both realize that without trust their marriage is doomed.
While the hero, he's confident, hard-working and I liked how determined he was to win Sarah back and discover the identity of the person responsible for causing Scott to question his wife's fidelity. I also liked how hard he was willing to fight for his marriage, because it was palpable that Sarah was his Mrs. Right and that nothing should stop them from being together, as long as he can convince her about his discovery into the person who wanted to see their marriage dissolved. Will she confront the person once she begins to realize that Scott may be right in his assumptions?
"No," she said when she saw the glint in his eye.
"Why not?" We're married."
Sarah had to laugh. "What about the travel agency?"
"It's not going anywhere. Besides, this won't take long."
"I'm not fond of quickies." She told him even as her heartbeat accelerated.
"You could have fooled me."
Overall, Ms. Lee has penned a worthwhile read in this book, which was filled with plenty of emotion and showed how love can conquer all. The way this story ended had me smiling, because of Sarah's news and Scott's surprise. I would recommend The Magnate's Tempestuous Marriage by Miranda Lee, if you enjoy second chance romances or books by authors Kate Hewitt, Sharon Kendrick or Carol Marinelli.
Book Info:

Publication: April 18th, 2017 | Harlequin Presents | Marrying a Tycoon #1
The perfect marriage?
Mining magnate Scott McAllister thinks that inexperienced, biddable Sarah is the perfect wife. Until he's led to believe she's committed the ultimate betrayal! When he confronts her, Sarah's defiant response astounds Scott, sparking a desire to uncover these unseen passionate depths…
Sarah is furious Scott believed such lies, but even more furious that her body can't forget the seductive magic of his! The sheer power of their attraction and Scott's pull over her is overwhelming…
In this fight to save their marriage, their bed is the ultimate battleground! Unless Scott can persuade Sarah that surrender is more fun with two winners…