The Marriage Contract by Kat Cantrell takes an unusual approach to a marriage of convenience romance in this entertaining and sexy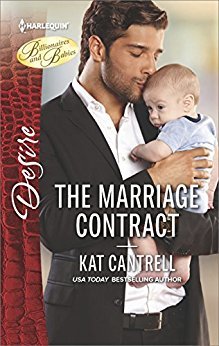 story. Desmond Pierce is a reclusive inventor who wants to have a child but doesn't want to go about it by the normal route. He enters into a marriage agreement with McKenna Moore, a medical student, for her to act as a surrogate to conceive a child using artificial insemination. Once the child is born, they'll get divorced and she'll be paid for her time and labor (literally). The first time they meet is not until the baby is born and a medical issue arises that requires McKenna to see the child she's giving up, and the man she married by proxy. Desmond needs her help, and McKenna can't say no. Once they spend time together, Desmond and McKenna discover that they are attracted to each other. Will their future plans be upended by a ready made family and a chance at love?
This is definitely a unique way of getting a couple together! Since McKenna and Desmond don't meet until after their son Connor is born, they don't know anything about each other at the start other than why they both agreed to the marriage and child arrangement. McKenna is from a religious community background where medical intervention is frowned upon and her personal beliefs have set her on a path to becoming a doctor to counter that doctrine. But she's always thought that she couldn't do justice to a medical career if she had a family. And truthfully, she agrees to the proposal to be a surrogate to experience pregnancy and for the money she'll be paid. Knowing she'd have to give up the baby, she'd been careful to keep herself from getting attached but that all changes when Desmond approaches her with a proposal to stay with him for a few months as Connor has an allergy to formula and needs her to breastfeed him.
Desmond has some social anxiety issues and is used to being alone in his rather sumptuous mansion. He's wealthy and very smart and not immune to the presence of the beautiful woman in his home, made even more attractive to him by her nurturing nature with their son. He's always envisioned raising his child with the help of a nanny but with McKenna around, he finds that he's seeing her more and more in the role of caregiver and isn't so eager to find a replacement. With a three month timeline, McKenna and Desmond soon find themselves succumbing to the sexual attraction between them in some sexy scenes. But McKenna is also finding it harder and harder to envision life without Connor and Desmond, even though she still wants to pursue her studies.
There are some interesting conflicts in this story as Desmond and McKenna navigate their feelings for each other, for their son, and how their visions of their own futures are changing. There are several scenes involving Connor obviously, since he's the bond that brings them together, so this is definitely a book for readers who enjoy stories with babies in them. I found this to be a very entertaining and interesting way to setup a romance and this couple ends up being very well matched.

Book Info:

Publication: May 1, 2017 | Harlequin Desire | Billionaires and Babies #81
A Billionaire's Baby Plan…
Desmond Pierce wants a child — but the conventional route won't do for the reclusive inventor. Enter McKenna Moore, a medical student willing to be a surrogate mum…and to marry by proxy without ever meeting her husband.
But when the baby's health requires McKenna to not only face Desmond but also live with him, their chemistry explodes. Soon McKenna is in his bed, where he wants her to stay. But saying yes to making their marriage real puts McKenna's dreams at risk — and forces Desmond to re-evaluate everything he's ever wanted…