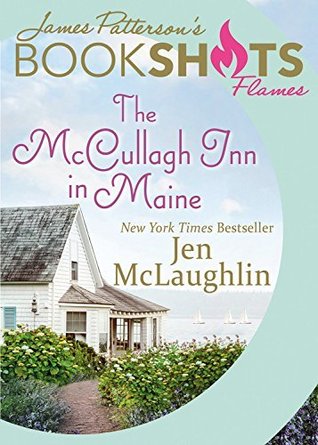 The McCullagh Inn in Maine by Jen McLaughlin was a quick read with many likable moments. For instance, I adored how the characters started off as best friends. I am a sucker for the friends to lover's trope and this book fit the bill.
Chelsea and Jeremy were best friends until their relationship became more. Chelsea was in love with Jeremy, but Jeremy was getting married to someone else. Chelsea decides to leave but before she can, they indulge in some adult recreation, which causes Jeremy to realize he's in love with her. It's just too bad that by the time he realizes this, Chelsea is already gone. I really loved the fact that Chelsea left the night before Jeremy's wedding. She was in love with him forever, and if she stayed that would have been torture for her…regardless of him calling off his wedding or not.
Chelsea left to get away from her family and from Jeremy marrying someone else. She became an assistant district attorney but made some bad choices…more specifically, a boyfriend. A boyfriend who was crooked and abused her. Chelsea takes matters into her own hands and winds up in trouble. So much trouble that she's had to come home, she dyed her hair and she needs a new identity.
Once Jeremy sets his eyes on Chelsea again, there is no staying away from her. So when Chelsea tells him that she's fixing up the Inn her aunt left her, he uses that as a reason to stay close. He is at her side any chance he gets, but he also has an underlying reason to be with her. Jeremy isn't who he says he is and is hiding quite a big secret. A secret that I figured out from the very beginning, but still found enjoyable to read as it played out.
I would have loved this story, had it been longer and the scenes were spaced out. Everything happens pretty quickly and I think the story could have benefited from more time between events. The story comes to an end before you know it. As for the romance, the action and suspense in the story overpower the romance aspect of it. Overall this was an enjoyable read and if you're in the mood for a quick, friends to lovers story, check this book out.
Book Info:

July 5th, 2016 | BookShots | McCullagh Inn #1
Her second chance at love. . .
Chelsea McCullagh escapes to Maine with a gun and fresh bruises. She's ready to begin anew-until she runs into her old flame, Jeremy Holland. As he helps to fix her inn, her heart heals and they rediscover what they once loved about each other. But as the two play house, it starts to seem too good to last. . . .