In The Midwife's Longed-for Baby (Yoxburgh Park Hospital #6) by Caroline Anderson, Nick Jarvis and his wife Live were so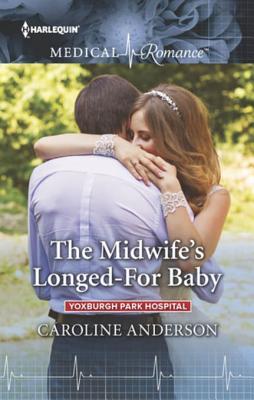 happy together, but the stress over her not falling pregnant tore their marriage apart. Now though, Nick has accepted the opportunity to work at Yoxburgh Park Hospital again where he'll be working alongside Liv. Will Liv and Nick find their way back to each other to achieve a second chance at happy ever after, or will the problems they had in the past continue to keep them apart?
"Nick, it's fine. We managed this morning and as I said to Ben, I'm sure we can be civilised."
"I'm sure we can, but that still doesn't make it easy."
The despairing little laugh escaped without her permission. "What, you thought you could come back into my life after a year and it would be easy? Get real, Nick. We're not married any more, in case you haven't noticed. Of course, it won't be easy."
I did enjoy the previous book of this series, but this one was more enjoyable due to the fantastic main characters and their back stories that had me sympathizing with their situation and how it broke their marriage apart. Why did Liv think so wrongly about Nick? Why did Nick not make Liv understand that he would never do anything to betray her? Yet, it was the way this story started that had me liking both the hero and heroine immediately, as they have a big decision to make. Can they find a way to work together without feeling uncomfortable whenever they're in each other's presence? However, the moment they come face-to-face for the first time is the moment this story became fast-paced for me and made me sympathize with both the main characters, as it's palpable they both still love each other.
As for the dialogue, it was intense due to the history between these two that had the heroine making wrong assumptions about the hero in the past and him not being willing to make things right, because he didn't think it was possible to fix their marriage. It was also intense due to the medical situations such as what happens to the heroine that she needs taking care of, the complications a woman can face while pregnant and what happens to one of the secondary characters that left Nick and Liv worried. However, the dialogue wasn't all intense. There were certainly a few light-hearted moments that illustrated how close these two were and that they feel comfortable enough to tease each other, especially when it comes to the differences they've made in their lives with Nick determined to take better care of himself and Liv not worrying about keeping herself as fit as she once did.
"Hmm. I like luscious better than flabby."
"Me too. I might have to check out your lusciousness again later."
"Only if I can check out your curves."
She gave him a cheeky grin. "Be my guest. But maybe not here or now."
Both the main characters had me loving this story, as they're determined to take things slow for fear of losing each other again. Yet, in saying that, I liked how determined Liv was to win Nick back and that she wasn't afraid to tell him once they got over the initial hurdle of being reunited. I also liked how much the heroine loved her job, even though it's hard for her to witness other people having babies and possibly not ever being able to have one of her own. In those moments, I felt like crying for her, but at the same time, she handles herself wonderfully and acts the professional she is. While the hero, I liked how determined he was to prove to Liv that she's the only woman for him. I also liked how good he is at his job and that he would do anything for his patients, especially a woman that is having complications in her pregnancy.
Overall, Ms. Anderson has penned a delightful read filled with plenty of emotion that – at times – made me laugh, smile or want to cry and where the chemistry between this couple was powerful. The way this story ended left me completely satisfied, as this pair definitely deserved their happy ending, especially with surprises they had for each other. However, it was the epilogue that wrapped this story up nicely, because life couldn't get any better for Nick and Liv. I would recommend The Midwife's Longed-for Baby by Caroline Anderson, if you enjoy second chance romances, medical romances or books by authors Emily Forbes, Alison Roberts, Tina Beckett and Scarlet Wilson.

Book Info:

Publication: September 1st, 2017 | Harlequin Medical | Yoxburgh Park Hospital #6
A marriage worth fighting for
Obstetrician Nick Jarvis and midwife Liv had the perfect marriage–until not conceiving the baby they ached for tore them apart. But separation has only compounded how much they need each other, and now they're working together again, delivering babies every day! It could be their chance to rekindle their relationship, but only if they can rediscover the sheer joy of loving–the one thing that will make their marriage whole and give them the courage to try for a baby again.