In The Millionaire's Gamble by Sarah Ballance, the plan Kennedy Price has for discovering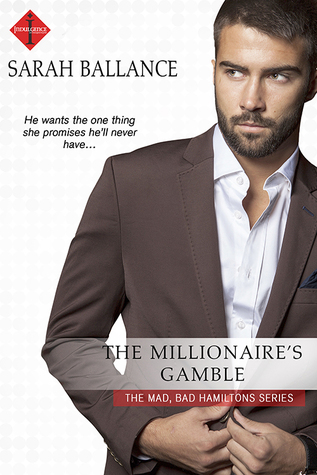 whether Jagger Hamilton fathered her nephew or not is nowhere near foolproof, but it's the best she could come up with. Plucking a hair from his head while getting a little up close and personal sounds simple enough. Unfortunately, it lands her in more trouble than she expected and it's just lucky the man she was planning to deceive ends up rescuing her.
"You approached me."
"That's right," he said, unfazed, not giving an inch. "And you yanked a bunch of my hair out of my head, blamed it on a ring you weren't wearing, and mumbled something about a baby who looks nothing like me. So either start talking or I'll call security."
"Call them," she said, nothing his lack of reaction as he mentioned the baby, whereas inside she was a mess. Had she said that? He knew, and still nothing? "I'm here on behalf of the owner, and I won't hesitate to tell him you plan on tearing down this hotel."
Jagger Hamilton is a man that goes after what he wants, and what he wants is to buy the casino next door to his in Atlantic City. Helping a woman should gain him some gratitude, but all it seems to do is land him in hot water when she turns around and blackmails him. Can they come to some sort of arrangement, especially when she wants to know whether he is the father of her nephew?
Every book by Ms. Ballance that I have read has been really good, and this first story in a new series for her was no different. Right from the beginning, this book was fast-paced due to what the heroine is determined to do to discover whether the hero fathered her nephew. Will he suspect what her intentions are? What will he do when he finds out what she was endeavoring to do? However, it was the couple's growing relationship that really drew me into this story, as Jagger is adamant that he will never be relationship material.
I was absolutely charmed by the main characters as well as the secondary ones. The growing relationship between Jagger and Kennedy is filled with plenty of sexual tension due to the light-hearted moments where both main characters let their guards down. Kennedy would do anything for her nephew because she wants the young boy to know his dad. Yet, there are some things she won't do and she's not afraid to express her opinion when Jagger seems absolutely certain that she'll find it hard to resist him.
"Photographic evidence suggests you have a type."
His knowing grin offered little argument, not that she expected one. "What do you suppose it means that I prefer this version of you?" he asked.
"That you're an opportunistic ass," she shot back. "I'm here, I'm breathing, I don't look like a troll, so you might as well scratch an itch."
Kennedy is strong, brave and definitely provides a challenge for Jagger, as she's adamant she can resist him. She's also very loyal to her sister and nephew, and would do anything for them, even though what she did was way out of her comfort zone. Indeed, the fact that she knows what type of women Jagger goes for proves just how determined she is to learn whether he fathered her nephew. Even though there are obviously risks she didn't take into consideration; a risk that the hero rescues her from. Otherwise who knows what would have happened to her.
As for Jagger, from his point of view the dialogue is quite intense, and it's no wonder he doesn't do relationships since if he got close to a woman, he believed that they'd try to take advantage of the fact that he has money and lots of it. He's confident, cocky, and I liked that when the heroine blackmailed him, he didn't refuse. Instead, he does some quick thinking, using his good business sense to negotiate and it was exciting to know whether Kennedy would accept his terms. Will the heroine help Jagger achieve his dream of owning the hotel he wants? What will he do to the hotel if he finally owns it?
Nicely-detailed sex scenes heat up the story at just the right moments throughout this story, and definitely do justice to the couple's intense chemistry. While Kennedy is adamant that she won't be so easy to get into bed like all the women Jagger has been with before her, she finds it hard to resist him especially after their heart-to-heart reveal on the subject of why Jagger doesn't do relationships. I couldn't help feel sorry for him and his story did bring tears to my eyes. How could a father be so cruel?
Overall, this was a really good book to start the Mad, Bad Hamilton series for Ms. Ballance, which has me really looking forward to reading more about the Hamilton brothers. The way this story ended was perfect, as Jagger proved to Kennedy how much he loved her with his very public speech. And of course, I can't forget the reaction of Jagger's brother with his unicorn comment, which implies that Kennedy is rare like one. I would recommend The Millionaire's Gamble by Sarah Balance, if you enjoy a heroine that will do anything for her family, or a hero that goes after what he wants in both his business and personal life.

Book Info:

Publication: July 11th, 2016 | Entangled Indulgence | The Mad, Bad Hamiltons #1
Wealth has a price. Everyone wants something from you. For one woman, that something was my DNA. One minute, she was kissing me like we were going to strip it down and go
at it. And the next, she was ripping out my hair for a paternity test—and
threatening to torpedo my latest deal. I don't play these kind of games. And that damnably sexy woman with the alluring eyes and mistaken agenda is about to learn that the hard way…
Millionaire scion Jagger Hamilton didn't father Kennedy Price's nephew.
That doesn't mean he can't use the situation to his advantage. She wants
him to take a paternity test. He wants her in his bed.
He shouldn't.
She's blackmailing him, and she's playing dirty. He could try to use the
famous Hamilton charm to turn her into a powerful ally… But she makes him feel… Way. Too. Much.
Kennedy Price isn't asking much. Just for the powerful, sinfully hot, and
notorious playboy to be a decent human being. But he's used to using that
filthy, sensual mouth for getting what he wants.
And he wants her.
She's determined not to fall for him. But there's no avoiding his charisma,
or his bed, where she threatens to lose more than the standoff between them. She just might lose her heart.