The Millionaire's Redemption by Therese Beharrie: Deception, as long as no one gets hurt it's okay, right? If you go into it eyes wide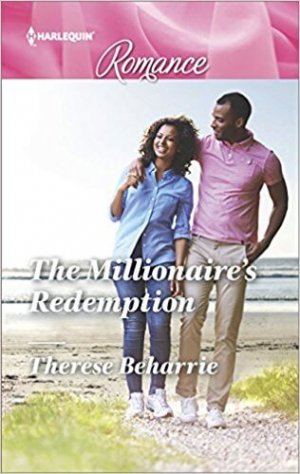 open than you can't be shocked at the ending, right?
Lilly Newman thought that was the case. She went into this craziness, pretending to date the "bad boy" with her eyes wide open, right? She wasn't in danger of having her heart broken or her self esteem trashed. In fact this might be everything she needs to get her life back on track, maybe this will help her feel worthy.
Jacques Brookes was "the" bad boy. He had one really bad night seven years ago and then a full year of "who cares" just after that. The problem is now he needs to be rid of that persona and quickly so when Lilly falls into his lips, literally, he knows this might be his shot. What he didn't anticipate, though, was feeling so protective of her, or even liking her this much.
When push comes to shove these two will have to confront their pasts and the trick is will they be able to move on? Or will they realize they need to cling to the memories rather than make some new ones.
Ms. Beharrie has given her readers a nice solid quick read with this novel. She has breathed life into a redemption story that could have been very repetitive, giving it a flavor that sets it apart from others. Her characters are likeable and not extreme making them a relatable in a way that is nice. This is a very trope read and does follow it's basic guidelines. Though with Ms. Beharrie's language and writing style it is worth the read.

Book Info:

Publication: August 8th 2017 | Harlequin Romance |
A proposal of convenience!
Jacques Brookes wants the world to see the real him—the man behind the headlines. When he catches the eye of beautiful Lily Newman, he knows she could be just the woman to help him…
Jacques screams trouble—Lily's already had her heart broken by her cheating ex-fiancé. But by pretending to be Jacques's girlfriend she may be the only person who can help him on his journey to redemption. And he could be just what Lily needs to believe in love again!