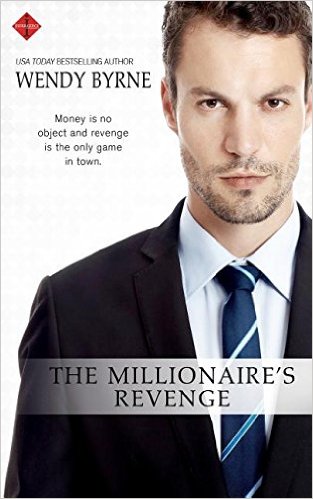 In The Millionaire's Revenge by Wendy Byrne, Luke McCall will stop at nothing to see his business rival, the manipulative Cyrus Wilson go down for crimes he commits to secure projects as a real estate magnate. However, seducing the beautiful Grace Wilson isn't as easy as he thinks, and when he starts to realize that she's nothing like her father, he soon discovers it may be too late to stop the train-wreck he knows is coming when she learns the truth of why he's with her. Can Luke convince Grace that he wants forever after with her before she discovers why his reasons for being with her?
"One more chocolate martini, and I would probably have done a striptease on the dance floor."
He chuckled and pretended to signal the server. "I'll change the order back, then. That would give people something to talk about."
"Sometimes a gal needs to let loose."
"Tough day at work? I don't think you told me what you did for a living." He wondered how much she'd divulge.
"You were too busy seducing me to ask."
Lately, I've been reading more and more books involving the revenge trope where the hero uses the heroine or vice versa to get back at someone in their family, and what I always look forward to when reading a story containing the revenge trope is how far the character wanting revenge is willing to go to get it. The way this story started was amusing, as Grace and her friends are talking about relationships and what a man has to do to keep the heroine's attention. Otherwise, if they don't meet her criteria, then she'll implement her new philosophy when it comes to men. Of which her new philosophy's acronym is TSD (An acronym I'll leave you all guessing as to what it stands for.)
The dialogue was intense due to the main character's back stories, why Luke wants to take down the heroine's father and why the heroine is looking to implement her new philosophy when it comes to men. The heroine has had enough of men using her for their own personal gain, and so she's ready to put any guy she meets to a series of tests. Will it be successful? How far will Luke be willing to go to gain Grace's trust? However, the dialogue wasn't all intense and some of the things Grace asks of Luke had me smiling. Will he allow himself to be manscaped? Why does the heroine drag him to a night out of something she herself hates?
As for the characters, I really liked Grace, especially because of the way she finally stands up for herself when it comes to her father. She's the kind of daughter that's always done everything in her power to gain her father's approval, and quite honestly enough is enough. Since it seems she'll never gain it, and her father is too ruthless to care about anyone else but himself. She's also kind, caring and generous in what she does with the charities she helps, and I could understand why Luke would do anything he could to protect Grace, so she didn't pay for her father's crimes alongside him. While Luke, he's confident, hard-working, and I liked how Grace continued to surprise him the more he got to know her. He assumes she's like her father; the kind of woman that gets what she wants, no matter how many people she has to hurt to get it. Yet, she proves him wrong with everything she does for those less fortunate.
"You took one look at this"– she waved her hands down her body starting with her rat hair to her comfy old bathrobe– "and you couldn't resist. I get that a lot."
He laughed. "Exactly."
"Well, I'm not caving to your smooth talking ways this time."
"Don't blame you. It's all about you for real this time. I now know a good thing when I see it. Your wish is my command."
Overall, Ms. Byrne has penned a really good read in this book, which encompassed a strong romance that illustrated how love can conquer even the toughest of obstacles. The way this story ended was perfect, as Grace and Luke both had tough decisions to make. Would Luke continue in his plan to take down Grace's father, if it meant the heroine would also get into trouble? Would Grace take the decision out of the hero's hands once she learns the truth of what her father has done to keep Luke from getting the property he wanted? Yet, what I liked most of all was the words the hero used to win Grace back and how he used quotes from movies. I would recommend The Millionaire's Revenge by Wendy Byrne, if you enjoy the revenge trope.
Book Info:

 December 12th, 2016 | Entangled Publishing |
Real estate tycoon Luke McCall has a plan to take down the underhanded competitor messing with his livelihood. He intends to romance the man's daughter, gain her trust, and get the information he needs to put his rival out of business once and for all. He just didn't plan for the way she makes him feel.
Grace Wilson is tired of men using her smarts, social position, or her father's status for their personal gain. It's time for a new philosophy: Test. Screw. Dump. But after she meets Luke, she's not sure she'll be able to walk away. Not only is he sexy and charming, but he survives every test she puts him through. But can she trust a guy who seems too good to be true?