The Mysterious Italian Houseguest by Scarlet Wilson: Two strangers in the middle of nowhere with a lot of baggage to work through and no desire to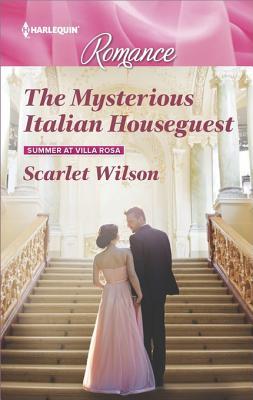 share. How is that going to turn out?
Portia Marlowe was at her sister's house to work through some things and figure out her future. She wasn't sure she could go back to Hollywood. That place was slowly killing her soul and she just wasn't sure she could do it. So she was going to take some time, clean house literally and figuratively.
Javier Russo knew he needed a break. He was weighed down by way too many things. So he took off to a place he remembered from childhood. He had a key, sort of, and was just planning on spending a couple of weeks, maybe work on the house a little bit. It wasn't really breaking and entering, right? He just needed to figure out what was going to happen next.
Javier and Portia were both distrustful, neither wanting to give an inch, until close proximity and time won out. But when a story breaks, you have to wonder if it will break them as well.
This is one of the most adptly named novels I've read in a long time, however probably not for the reasons you are thinking though. I think that both Javier and Portia are mysterious even to themselves as they try and figure out who they are and Ms. Wilson does an amazing job at taking the reader through their transformations and learning processes. This is incredibly well written and thought out. It's a sweet romance full more of self discovery rather than anything else. This is a great book two in the Marlowe sister series.

Book Info:

Publication: July 1st 2017 | Harlequin Romance | Summer at Villa Rosa #2
Falling for the enemy!
Italian movie star Javier Russo needs to escape his Hollywood life. Isola dei Fiori is the perfect retreat–a lush island in the glittering Mediterranean. What he didn't expect was having to share his peaceful hideaway with the infuriatingly beautiful Portia Marlowe!
Celebrity reporter Portia is intrigued by her unwelcome and mysterious visitor, and the secrets he's clearly holding back. Villa Rosa isn't big enough for both of them, and soon there's nowhere to hide from their simmering chemistry!