The Negotiator by Avery Flynn, all Sawyer Carlyle needs is the right woman to act as a buffer and deter his mom from setting him up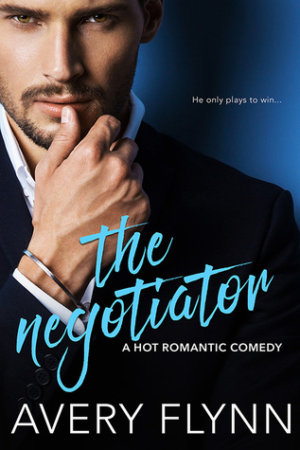 with women in hopes he'll get married. Clover Lee seems like the perfect candidate since she isn't afraid to say whatever she wants and is a free spirit, meaning she won't stick longer than the six-week contract they agree to. Except the more Sawyer and Clover get to know each other, the harder they find it to say goodbye. Will Sawyer ruin their chance at happy ever after, or will he find a way to win Clover's love forever?
"The ad did state that you'd do anything within the law to act as my buffer."
She re-crossed her arms, mimicking his arrogant pose. How typical that he'd think she'd go along with his plan. She wasn't some naïve hick he could just lead around. "No one would believe we were engaged. I can't fake attraction, and 'uptight' is just not doing it for me."
If you've never read a book by Avery Flynn before, then this story would be an excellent one to start with. As it is a spellbinding read from start to finish, filled with plenty of witty dialogue that had me either smiling or laughing and has two incredible main characters that had me hooked from the very beginning because of their off-the-charts chemistry. Chemistry that only kept getting stronger the more time they spent together. Even if it meant doing things that Sawyer never imagined himself doing, but somehow Clover finds a way to convince him to do things outside the office.
The way this story start started had me liking Sawyer and his brother immediately; as it's palpable they are very close and would do anything for each other. The note Hudson Carlyle has penned to find Sawyer someone that can deter his mother from her idea of marrying off Sawyer was genius and I loved the words he used. They so ring true of Sawyer's attitude and personality, and the hero definitely needed someone that was his complete opposite. Someone that wasn't afraid to challenge him; yet could mostly stick to the terms they agree on.
Both the main characters were compelling, and I loved every moment they conversed. Neither Sawyer or Clover are interested in settling down, and I could understand why Clover didn't want to. She doesn't want to be like her mom, believing the woman settled down before she was ready and missed out on a lot of adventures she should have had. In some ways, it makes Clover out to be too much of a free spirit; someone that doesn't know what she wants out of life. Yet, in other ways, she's resilient, independent and courageous in taking on the kind of jobs she did in order to see the world. But what I liked most about the heroine was that she wasn't afraid to say whatever was on her mind, which is proven in the moment when Clover meets Sawyer's mom. Certainly, it's an embarrassing way of misjudging someone, yet the heroine did what Sawyer needed her to do in acting as a buffer.
"In a hurry, Mr. Stuffykins?" Clover asked, her hands busy murdering the knot in his ties as she tugged and pulled the silk free.
Please God, don't' let her ever use that nickname in front of another human being. "You're taste in nicknames suck."
"It fits you since you need to be taken down a few pegs." One last yank and his tie slipped free.
He chuckled and turned down the hall to his room. "And you said I was a bad flirt?"
While Sawyer, I'm not one to claim book boyfriends, but if I was going to, Sawyer would definitely be a hero I'd choose. He's determined to keep his family legacy going, which shows in how hard he works and that he doesn't give up until he gets what he wants. I also liked his determination to win Clover over, because they need each other to make the other realize that working so hard and so much and continuing to be such a free-spirit isn't the way to spend one's time, especially when life is so short. But what I liked most of all about Sawyer is how he's always so focused, and yet, Clover manages to unravel that focus and get him to think about things other than work.
Overall, Ms. Flynn has delivered an incredible read in this book where the sex scenes were hot and did justice to this couple's intense chemistry, which blazed between them from the moment they met. The way this story ended had me smiling, because Sawyer is determined to win back Clover at any cost, even if it means he could be arrested. However, it was the epilogue that wrapped everything up nicely, as I discovered whether Clover had completely settled down or whether she and Sawyer continued to have adventures. Will there be a negotiation so one or both of them get what they want? I would highly recommend The Negotiator by Avery Flynn, if you enjoy the fake relationship trope, the opposites attract trope or books by authors Max Monroe, Natasha Madison or Gina L. Maxwell.

Book Info:

Publication: April 24th, 2017 | Entangled Publishing |
Wanted: Personal Buffer
Often snarly, workaholic executive seeks "buffer" from annoying outside distractions AKA people. Free spirits with personal boundary issues, excessive quirks, or general squeamishness need not apply. Salary negotiable. Confidentiality required.
Workaholic billionaire Sawyer Carlyle may have joked he needed a "buffer" from their marriage-obsessed mom, but he didn't need a waiting room filled with "candidates" to further distract him. (Thanks, bro.) But when a sexy job applicant shooes his mom and the socialite in tow out of his office, Sawyer sees the genius of the plan. And the woman. In fact, Miss Clover Lee might just get the fastest promotion in history, from buffer to fake fiancé…
This "free-spirit" might look like hot sunshine and lickable rainbows, but she negotiates like a pitbull. Before Sawyer knows what hit him, he's agreed to give up Friday nights for reality tv, his Saturdays for flea markets (why buy junk still baffles him), his Tuesdays and Thursdays for "date nights" (aka panty-losing opportunities if he plays his cards right). And now she wants lavender bath salts and tulips delivered every Monday?
Yup, she's just screwing with him. Good thing she's got this non-negotiatable six-weeks-and-she's-gone rule or Sawyer may have just met this match…