In The Night Belongs to Fireman (The Bachelor Firemen of San Gabriel #6) by Jennifer Bernard, Fireman Fred Breen couldn't know ahead of time that his life would change the night he went out for a beer with a fellow firefighter. That was the night he met and rescued Karen, whose best friend's bachelorette party came to a screeching halt as they were pinned inside their limo in a freak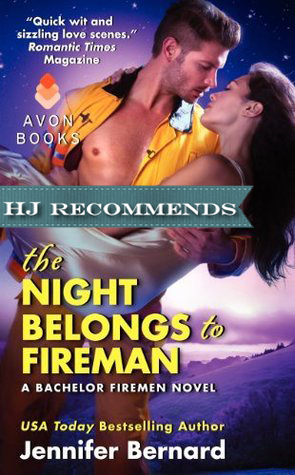 accident. Karen made an impression on Fred with her bravery before her sudden disappearance at the scene. But when he searches her out to ensure her safety, somehow he is convinced to become her personal bodyguard after finding out she is the daughter of one of the richest men in America. Even with their differences in social status, Fred can't deny the growing attraction he has to Rachel. But will being in such close proximity to her finally get their desire out of his system, or make it that much more intense?
'With her pixie features shining with delight, her wide grin nearly taking over her small face, he knew he'd never seen anything more beautiful in the world. If he could make her happy, even if for the span of time required to make passionate love to her, he would.'
Rachel Kessler has spent the majority of her life being guarded like a precious jewel. Her father has spared no expense in making sure she will never be kidnapped again like she was when she was just a child. Since her terrifying escape, Rachel has simply wanted to live her life like anyone else her own age, not hiding her true identity from the world. So when she notices sparks when hunky, good-natured firefighter Fred rescues her, she desperately wants to act on it. She's given the chance when her father hires him to protect her as new threats are made against her. Rachel knows Fred will do anything to protect her, but could he possibly be tempted into seeing where their attraction will lead?
'In the short time she'd known him, Fred the Fireman had rescued her, protected her, and put himself on the line for her. Without any idea of who she was. Didn't she owe him the truth?'
The Night Belongs to Fireman was a terrific addition to the Bachelor Firemen of San Gabriel series. Here we had two main characters who were pretty much opposites in every way except in what matters most: they both had huge hearts. Cue the happy sighs…
I dare you to read this romance and not swoon over Fred the Fireman. Seriously. This series has been full of hunky alpha heroes who most of us would gladly like to be rescued by anytime. However, Fred Breen was not only an alpha male (don't call him a hero…he hates that) but he was also an absolute sweetheart of a guy. I thought he was the perfect combination of tough but sweet. Fred was a lot of fun when he was around the crew from the fire station, who loved to tease him mercilessly about being the Bachelor Hero. But he was very in tune with what Rachel needed emotionally and physically, which led to some extremely passionate and intense love scenes.
Rachel was a pretty complex character to get to know. I thought Ms. Bernard did a nice job of showing both Rachel's vulnerable, sheltered side since her ordeal as a child, and how her adult self wanted to break free and truly live her life. I could easily feel that push-pull of not wanting to disappoint her father but wanting to be like a normal young woman in her mid-twenties. Then Fred came along and ignited that passion she longed for. Whew was it hot! I loved how the writing style used here went so smoothly from poetically describing Fred and Rachel's evolving romance, to explaining the intense chemistry they had, fairly explicitly. There was a great balance which made this a joy to read.
If you love an opposites attract trope, I think you will definitely enjoy The Night Belongs to Fireman. Feel free to read this even if you are new to the series. You'll easily fall in with the crew and will most likely want to go back and read about the rest of the guys, too.
Book Info:

Published September 30th 2014 by Avon | (The Bachelor Firemen of San Gabriel #6)
Daring . . . Sexy . . . Irresistible . . .
They're the Bachelor Firemen of San Gabriel
When fireman Fred Breen rescues a bachelorette party after a construction crane collapses onto their limo, the media labels him the "Bachelor Hero." But all Fred can think about is the petite brunette with the sexy mane of dark curls who bolted away from him faster than a wildfire after he carried her to safety. And when he discovers she's none other than Rachel Kessler, the daughter of a tech billionaire, the girl whose kidnapping riveted the nation, he intends to learn every intimate detail about this intriguing woman who sets his pulse on fire.
Rachel can't deny the lean-muscled firefighter is smokin' hot. But after having one too many drinks at the bar where she first meets him, Rachel knows she's made a fool of herself. Yet when he rescues her from the limo, she feels safe for the first time since she was held for ransom as a child. Then her overprotective father insists Fred be her bodyguard—and his close presence kindles a burning desire that only he can extinguish.