The Notorious Lady Anne by Sharon Cullen is a swashbuckling, adventure on the high seas, that will keep on the edge of your seat with anticipation of what will happen next.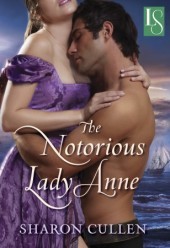 It has been two years since Nicholas Addison has sailed the seas when he is approached about taking a job as captain of the Blackwell Shipping Fleet, the Pride. The shipping company has recently been under attack by what some suspect as pirates, namely the pirate known as Lady Anne. When Nicholas agrees to take Emily Sutherland abroad his ship little does he know what he is getting himself into. Ladies are thought to bring bad luck to a ship.
When an ordinary voyage across the seas turns deadly Nicholas is surprised to find that the seemingly innocent Emmaline Sutherland is none other than the notorious Lady Anne. He is also shocked to find himself besotted with her.
Lady Anne is well known and feared on the high seas. She is after revenge on the father that abandoned her as a child. She is determined to bring down Blackwell shipping. What she doesn't expect is to find Captain Nicholas Addison to be so attractive. As she and Nicholas work together to uncover Blackwell's deception will love find it's way in to their hearts?
The Notorious Lady Anne is a fast paced adventure that grabs a hold of you from the very first word and doesn't let go until the very end. Ms. Cullen brings the characters to life with her witty and charming writing style. This was my first book written by Sharon Cullen but it will certainly not be my last. I highly recommend this story to all those who love a good historical romance set against the high seas!
Rating: Publisher: Loveswept (February 11, 2013)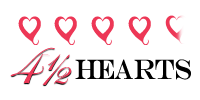 Book Info:
Nicholas Addison, celebrated captain of the Blackwell Shipping Fleet, has agreed to take Mrs. Emmaline Sutherland aboard the Pride and ferry the raven-haired beauty across the Atlantic on what he imagines will be a routine trip. But when the ship is attacked by pirates, the seemingly innocent passenger is revealed to be none other than the infamous marauder Lady Anne, whose name strikes fear in the hearts of sailors everywhere—and whose seductive wiles commandeers Nicholas's affections.
Lady Anne, a legend of the high seas, has spent the last eleven years plotting revenge against her father, the owner of Blackwell Shipping. She's targeted thePride in hopes of plundering its captain's company secrets. But beneath her fierce courage and bitter determination, Anne has the delicate heart of a woman—a heart that cannot help falling for Nicholas. Now Anne must make a difficult choice: bring down Blackwell or surrender to love.