The Paris Connection by Cerella Sechrist: Emma Brooks is a divorced mom of a sweet little girl, an American living in Paris and still somehow a romantic. Yes she doesn't have many friends and yes she is an orphan without much family to speak of, but she has a wonderful boss who is like a father to her, her own special little girl and a rotating world of Au Pairs to help her fall in love with Paris each and every year a new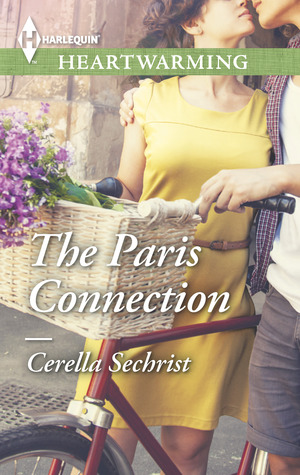 one comes.
Cole Dorest isn't happy. He is an orphan who finally thought he had found love only to have her break the engagement and run off to Hawaii and into the arms of another man. The kicker though? He is still working for her mother so the reminder is almost always there, and he got the promotion she was supposed to have so now he has to pick up everything and move to Paris, not where he wants to be.
To say Emma and Cole have massive stumbling blocks to get over is to put things mildly. In fact the fact that they even survive their first couple of weeks working together is amazing. Then again in the city of Love anything and everything is possible. However when loyalties are questioned how can they know if they really know one another enough? Is it Paris? Or is it love?
Ms. Sechrist has piled a lot into this work. Included is not only an amazing love story but a story of a woman whose loyalty is beyond the pale. She will go above and beyond for those in her life no matter what it might cost her. The story of Emma is one of great love, loss and compassion that no woman should miss.
Book Info:

Published March 1st 2014 by Harlequin Heartwarming
Sparks are flying in the City of Light
Emma Brooks, single mom and managing director at the leading recruiting firm in Paris, was against their merger with an American company from the start. Not only was her firm losing its autonomy, she was losing her well-deserved promotion to Cole Dorset—a handsome, arrogant interloper from New York!
How did Cole's ex-girlfriend's dream of moving to Paris become his nightmare? Now he's got to find his way in a new country, and the woman showing him the ropes wants to string him up by one. But as he gets to know Emma and her daughter, he realizes Paris may have more to offer than he thought….