In The Perfect Letter by Chris Harrison, Leigh Merrill left Texas ten years ago after a tragic event separated her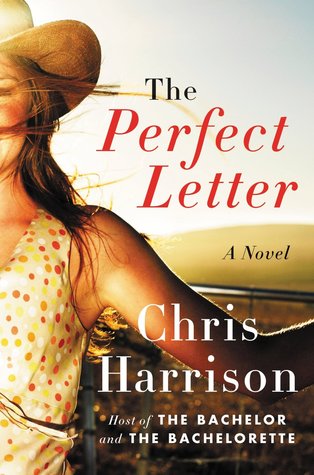 from her boyfriend Jake and alienated her from her beloved grandfather. She went off to Harvard as was always the plan, but instead of thriving, Leigh felt like she was barely alive. Since then, she has worked her way up through the ranks at a famous publishing house in New York to become a senior editor where she just had the coup of her career.
'What do you do when you finally tell the truth, but people have already decided to believe the lie?'
Riding high on her success, Leigh finds herself faced with a monumental decision to make with her current boyfriend Joseph. Needing some space, she escapes to a writer's convention back home in Texas and visits her best friend Chloe, hoping to find a solution. Instead, Leigh comes face to face with Jake. And it's clear their chemistry has done anything but dissipate. When their complicated past comes back to haunt them both, Leigh will have to decide if her future is with Jake, Joseph, or if neither will be able to handle the truth.
"I need you," he said, breathing the words into her mouth. "Don't you know that by now? That there's no place in the world that's home for me, except you?"
The Perfect Letter was one woman's journey back to her hometown, where her past and present collided, causing confusion and potential heartbreak for everyone involved.
I wasn't sure what to expect from this debut novel by Chris Harrison, known best as the host of ABC's The Bachelor and The Bachelorette. I was pleasantly surprised with the plotline and how invested I became in the outcome of Leigh's plight. The story shifts back and forth between the present and the event that changed Leigh and Jake's lives forever a decade earlier. The flashback scenes were easy to follow and added another layer of depth to the overall story, for me.
While there were some decisions Leigh made that I had issues with, I could relate to her character and even empathize with what she went through over the years. This was, as you can probably tell, a reunion story, which is one of my favorite tropes. And this particular reunion was very bittersweet. Jack and Leigh went through a lot together as teens and although I had no idea how it would work out, I couldn't help but hope they would find their HEA. The love triangle between Jack, Leigh and Joseph made things even more complicated, but it seemed realistic given what had happened and where they were in their lives.
If you like your romance with complex emotions, suspense, and redemption, you might want to give The Perfect Letter a try.

Book Info:

Publication: May 19th 2015 by Dey Street Books
Chris Harrison, the beloved longtime host of ABC's The Bachelor, explores the perils and rewards of risking everything for love in his first novel.
As the longtime host of ABC's hit shows The Bachelor and The Bachelorette, Chris Harrison has witnessed the joys and heartbreak of men and women searching for everlasting love. A true romantic at heart, he believes that everyone deserves their own fairytale ending. Now, in his first work of fiction, Chris draws on his unique insights and wisdom in a remarkable debut novel that explores love and its consequences–a must-read for Bachelor fans and hopeless romantics everywhere.