In The Pirate and I (Devil's Duke #2.5) by Katharine Ashe, Miss Esme Astell journeyed from her family's farm to London by herself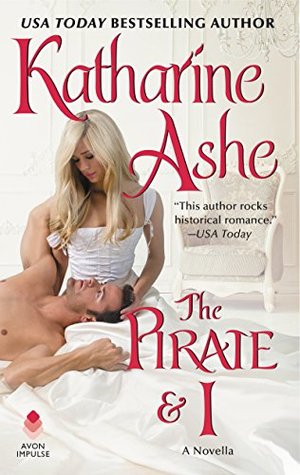 in the hopes that she could one day become a famous perfume maker. With her uncanny ability to pick out scents and pair them up in a pleasing manner, she found a job quickly but has since made no advancement in her career. A trip to a famous perfumer's convention in Scotland is Esme's final chance to make a name for herself. But a rainy encounter with a man she had unrequited feelings for in the past, Charles Brittle, changes everything. He may now claim to be a pirate and no longer a bookmaker since his disappearance two years ago. But even with an air of danger surrounding him, Charlie is still the humble, honorable man Esme fell in love with. And this might be the perfect opportunity to make her feelings known.
"Esme, you are an extraordinary person. Strong, courageous, intelligent." His eyes were shining peculiarly. "Adventuresome."
She tried to smile. "I suppose I would be an excellent pirate, then."
"No. You are far too generous. You have the heart of a hero."
Leaving his life and bitter family entanglements behind in London, Charlie didn't think his trip to sea would end up with him becoming a pirate against his will. But that's what happened. And in order to set himself free, he has been tasked with a few assignments he must complete before he can begin a new life for himself. Charlie is pleasantly surprised to run into beautiful Esme, whom he fancied back when he was in London. He knows she is the perfect person to assist him in his endeavor but doesn't want to endanger her for any reason. When she persists, letting him know he can trust in her, Charlie takes the chance. He never thought he would see Esme again and even though his life is quite complicated at the moment, he can't help but wonder if their paths crossed for a reason in Scotland. Perhaps to forge a new life–together?
"I cannot go home," he said. "For any reason. Ever again. The man who left London twenty-one months ago is dead. Believe that."
Katharine Ashe's flair for writing historical romances with engaging characters, a touch of darkness, and entertaining plots was absolutely evident in The Pirate and I. This quick novella packed a ton of emotion into it and had me cheering our hero and heroine on from the start.
"You might be a pirate, Charles Westley Brittle, but you are one of the most decent men I have ever known."
"If you knew what I was thinking now, you would not think me so decent."
I am definitely a fan of Katharine Ashe's writing style and this short story was a perfect example why. It moved along at a fairly fast pace but it worked well given the circumstances in which our characters found themselves. The dialogue was fresh and quick-witted, making me laugh at times and sigh happily at other times. But I think it was the way Ashe described Esme and Charlie's emotions, that longing they felt for each other, that kept me wrapped up in this story. I just loved that the feelings rang true and were so detailed that as a reader I went through every emotional moment with them. Actually, with every book of her work I've read, that emotional engagement is always present, which has allowed me to connect with her heroes and heroines quickly.
There was a lot to love about Charlie and Esme, as well as the rest of the secondary cast we met here. It seemed like each character had hidden depths to their personality which made things fun. Charlie was a kindhearted man who had been badly mistreated in his life. He did have some rough edges, thanks to being out at sea and being forced to become a pirate, but Charlie still had the soul of a gentleman. It was a great mash up of traits and made him dark and sexy as well as caring and noble. Esme was a fantastic heroine. Smart, enterprising, kind and loyal, she was very similar to Charlie in a lot of ways. I laughed every time Esme used his full name to knock him down a peg or two when he was being pirate-like and how she was able to remind him of the good things he had in his former life in London. What a fantastic couple they made. *dreamy sigh*
The perfect diversion for a summer afternoon, The Pirate and I will keep readers' attention with its lively plot, seductive HEA finish, and even a few intentional similarities to The Princess Bride. Definitely recommended.

Book Info:

Publication: Published July 11th 2017 | by Avon Impulse | Devil's Duke #2.5
Years ago, Miss Esme Astell fell hopelessly in love with Charles Brittle, an unassuming and highly respectable London bookmaker.
Then he disappeared without a word.
The last thing Esme ever dreamed was to meet Charlie again —
In a dark alleyway —
In a drenching rain —
In a chase with the police —
In Scotland.
Can she resist falling again, this time for the dangerous scoundrel he's become?