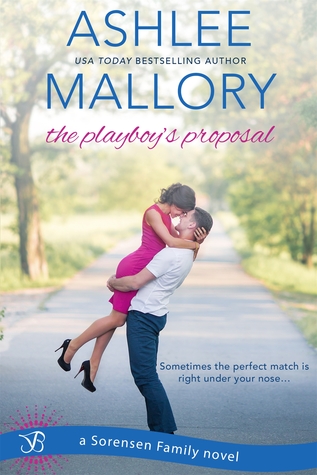 The Playboy's Proposal by Ashlee Mallory: This book started out with a classic case of "opposites attract", with Benny as a dedicated, serious doctor, and Henry as the typical partying "playboy" type, with neither really able to see the others' true character. However, as the story develops, they create a pact where he will help her transform her image to have a date with the doctor she is interested in, in exchange for Benny dropping her complaint about him to their homeowners association. This "pact" results in them spending considerable time together, through which they develop a friendship that becomes special to them both, without either realizing just how special until it is almost too late. Henry came from a privileged yet lonely upbringing and shows great appreciation for the loving family that Benny is surrounded by. As Henry coaches her on clothing, makeup an d conversational tips to help her get a date with her dream guy, Henry starts feeling great envy for the other guy, which leads to Henry doing some serious soul searching. The characters Ashlee Mallory creates are identifiable and real.
While initially I had a hard time getting into this story, I then found myself wanting to keep reading, to see what Benny would do next in her quest to have a date and relationship with her fellow doctor, Luke, and to eventually see Henry realize he wanted a forever type of relationship. This turned out to be a beautiful romance story between two unlikely partners. I recommend this to any reader who loves a sweet and fun romance novel.
Book Info:

 July 25, 2016 | Entangled: Bliss | Sorensen Family
Doctor Benny Sorensen has had it up to here with her party-throwing playboy neighbor. She's declaring war. She doesn't care how gorgeous or charming he is, he's going down. That is until he proposes something she's not sure she can say no to…
Wealthy ad man Henry Ellison lives an uncomplicated life that revolves around work, women, and partying. In that order. Until Benny storms into his life. To placate his attractive but hotheaded neighbor, Henry offers to help her land a date with the man of her dreams. Only as Henry makes her over and coaches her on the fine art of flirting, he realizes that the idea of this woman in any other man's arms but his own is unacceptable. But Benny's a forever kind of girl and forever might just be the one commitment he can't make.