The Plus-One Agreement by Charlotte Phillips: Emma and Dan were perfect for each other. At least in the sense that they looked nice together, knew how to navigate business dinners, and kept Emma's family off her back. Their long-term fake dating agreement wasn't enough for her anymore though, and it was time to move on to a real relationship.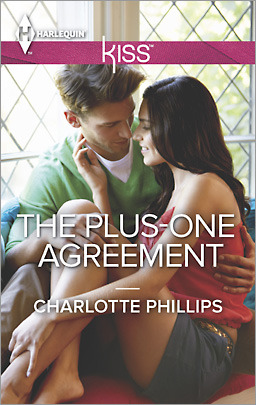 Dan didn't get it. What's with this Alistair guy that would make Emma give up their arrangement after a handful of dates to run off and leave him in the lurch? He'd gotten used to having her on his arm, she was class, charm, and acumen – wrapped up in a fairly attractive package. He didn't need anything else.
But then wrenches were thrown. Emma's plans went out the window and she was looking for a date to her brother's civil union. Not only was she short one real boyfriend, but Dan wasn't co-operating, and her brother's shadow was becoming more difficult to hide in. Once she manages to convince Dan to join her in the country for a weekend, can she hide her crush from him? Can Dan figure out why he feels jealous about her almost-defection?
Overnight stays were never a part of their bargain, but Dan and Emma are about to find out how far their boundaries can get pushed before they break.
This is a really quick and fun read – and as such, I felt like the story was a tad skimmy. However, I truly enjoyed it from start to finish. While Emma and Adam (her brother) were characters I could connect with, I would've liked more info on Dan. He was a mystery – which made him intriguing, but also a little frustrating. I empathized with Emma in that department.
And the book had an HEA, so no complaints there, but it seemed a tad abrupt. Again, not a deal-breaker, adorable, and Dan was cute as all get-out, but a cute kissy scene wouldn't have gone amiss. The weekend stuff between Dan and Emma was super hot – and I definitely give that an A+.
Another great KISS book! If you like this line, you won't be disappointed!
Book Info:

Published March 1,  2014 by Harlequin KISS
Successful job? Check. Swish wardrobe? Check.
Mr. Right? Not so much…
Emma Burney might not have a man, but she has a very practical solution for that: the plus-one agreement. A guaranteed date for any occasion. The problem? Her date is the gorgeous Dan Morgan, the man she lusted after for years.
Dan is all about keeping it casual, so when Emma decides to call it quits on their arrangement, he isn't bothered. Well, maybe there's just a little bit of dented ego. After all, he's always prided himself on his plus-one prowess. So when Emma begs just one last date…suddenly he's got something to prove!