The Pregnancy Project is the third sexy romance in the Love and Lipstick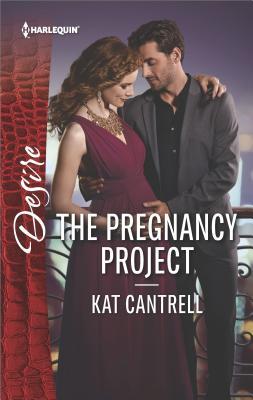 series, all written by Kat Cantrell. It focuses on four women who work for the Fyra cosmetics company and Dr. Harper Livingston is the brains of the team, the scientist who has developed the hit formulas for their products. She's recently hit a snag with a government product approval put on hold due to what she suspects is sabotage of her submitted samples from one of her employees. Her company and her scientific success means a lot to her and the thought that someone might be working behind her back to discredit the company is very troubling.
And if that isn't enough, she's also pregnant. It's her choice, a sperm donor pregnancy that she decided was right for her at this time in her life. She's hoping that when she tells the news to her longtime best friend, Dr. Dante Gates, he'll be on-board as a positive male influence for her baby. What she doesn't expect is that Dante's finally decided he wants to test whether friendship is all there is between them. How inconvenient that the sparks of attraction are flaring between them after she's already gotten pregnant! Will their friendship survive a little sexual experimentation? And could it lead them to an even better result?
I always enjoy reading about heroines who work in a scientific field, and the fact that Harper is an analytical chemist is a treat, as it happens to be my own specialty. I'm happy to say that the author's treatment of the subject is well done and the storyline from a scientific perspective is basic but plausible – that's a feat in itself when you're dealing with subject matter that isn't necessarily your forte. Harper definitely comes across as a conscientious and dedicated businesswoman who just happens to have tired of seeing her best friends moving on with their lives and starting families of their own. She's been unsuccessful finding a man as husband and father material so she's taken matters into her own hands and found a sperm donor, a scientist with a good reputation and who is okay with just being a donor and not planning to be part of the child's life. The fact that the donor is her best friend Dante's bitter rival is one she hopes she can gloss over with Dante without causing too many hurt feelings.
Unfortunately Dante isn't as thrilled with her news as she'd hoped. Not only because of whom she chose to be the donor, but also that she never told him her plans (from which he certainly would have tried to dissuade her). They've been good friends since college but he's felt an attraction to her for quite a while and decided to do something about it. His TV show about the science of attraction has given him some insight into what would make Harper consider him as more than just a friend, and he's keen to put his analysis to the test. The result is some super sexy scenes between them as Harper admits that an experiment to test their 'chemistry' is the best way to determine if it's something they can put behind them or will have to deal with from now on.
But with the changes happening between them, Harper worries that they won't be able to get back to the easy friendship they had before. And she's counting on that to help her through the pregnancy and raising her child. Dante however has no interest in being a father. Having been shuffled through the foster parent system, he has different views of what parenthood means and doesn't believe he has the stamina for it. Harper is going to have this baby with or without him though, and he'll have to decide just what he's going to want from her going forward. There are some ups and downs for this couple as they face reality, but in the end, the choices they make are the ones that lead to a happy ending. The plot about who is responsible for the sabotage of the company's samples is not fully resolved, and I'm interested to see where it goes in the next story in the series. The Pregnancy Project is a unique and enjoyable friends to lovers romance!

Book Info:

Publication: Dec 1, 2016 | Harlequin Desire | Love and Lipstick #3
He'll prove his seduction theories work even on his pregnant best friend!
On TV, Dr. Dante Gates teaches the science of attraction. Now this wealthy genius is using his expertise on best friend Dr. Harper Livingston. His theory: one kiss will extinguish that distracting spark between them. Reality proves hotter than any fantasy until he learns Harper's expecting.
She chose pregnancy by sperm donor before her best friend became Dr. Sexy. Now, if she wants all he can give, she has to stay emotionally detached or risk losing his friendship and her cosmetics company. But as she surrenders to his masterful seduction, she admits some things are worth the risk