In The Prince and the Pop Star (True Royalty #3) by Miranda King, The Prince of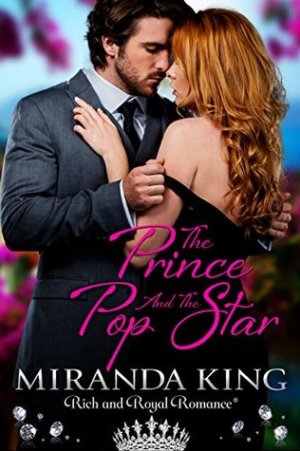 Summerland, Logan Thorton, has seen his fair share of death and destruction, even before joining the military. That's why he cherishes each close connection he makes. One of which is with his best friend and brother by choice, Dante Knight. But Logan's been keeping a secret from him, one that involves Dante's pop star sister Eden, the woman of Logan's dreams. But a promise to his best friend changes the course of his future right before his world is again shattered. Logan soon finds himself lost, torn between his true feelings and doing the honorable thing.
'…She makes him feel so alive. There's been too much death surrounding him, making him feel dead inside.
But Eden is warm and soft and beyond beautiful–angelic. Like she is his guardian angel leading him out of the darkness of his soul.'
Eden is sure that Logan is going to ask her to marry him when he suddenly says he wishes to just be friends. How could things change so drastically in the span of a week? Even with her soaring singing career to focus on, she still wonders what she could have done wrong to push Logan away or if it was something–or someone–else that was the culprit. Old insecurities start to creep up on Eden, leaving her to sort through her tangled emotions. But with the help of Logan's teenage sister Poppy, she just might be able to make him realize how perfect they can be together if he would just give them the chance they deserve.
She searches his face. "You love me. I know you do. But I need to hear the words. Logan, I need the words."
"I can't give them to you." He steps away. "I can't."
A combination of fun bantering and drama kept me glued to the pages of The Prince and the Pop Star. Written with Miranda King's nod to modern royalty, historical romance, and even fashion, this turned out to be a fast read that left me satisfied yet somehow still wanting more. 😉
If you've never read any of the True Royalty books then you can still feel free to read this as a standalone, although where some previous characters were mentioned here, I think it would be more fun and make for a better experience if you start at the beginning. The books have all been very quick reads for me, with book one–Almost My Prince–being the longest so far at just under three hundred pages. However, there was a lot of emotion packed into this abbreviated romance (as always), everything from joy to passion to grief, but it didn't seem forced or rushed thankfully.
Eden and Logan made quite an intriguing couple: The Prince of Summerland paired with an American pop star. They had a ton of heat between them right away but it was the tenderness they felt for each other that I really admired. They wanted to protect each other while still finding a way to be together but Logan's friendship with Eden's brother Dante made things complicated. I'll admit, I was frustrated on Logan's behalf when Dante stuck his nose into Eden's life and ultimately tried to made decisions for her. I know it was done out of love but it made a complex situation that much more volatile. But after a heartbreaking event changed everything, things eventually worked out for Logan and Eden, leaving us with a Happy For Now ending that even set the next book up to sound every bit as enticing as this one was.
If you enjoy a self-deprecating hero with a heart of gold and a sultry, smart & sassy heroine, I think you'll fall for Logan and Eden as well as with the rest of their friends and family. It will be interesting to see what Miranda King has planned for us next in book four…
Book Info:

Publication: Published December 11th 2016 | Miranda King | True Royalty #3
A Promise Pulls Them Apart…
A Rogue Prince on the Front Lines—
Honor-bound to stay away from his best friend's sister
A Sexy Pop Star Visiting the Troops—
Loses her heart to the royal officer who claims they're "just friends"
But a Second Chance at Love Brings Them Together…
When Prince Logan's sister wrangles his appearance in a music video for a military charity, the sparks fly between him and the international singing sensation, Eden Knight—the only woman he wants as his wife.
But this alpha male must stand down from making her his—a promise to her brother cannot be undone.
Yet as the video scenes heat up between them, can Prince Logan still honor his vow and have the woman he loves?
The Prince and the Pop Star is the third standalone installment in the True Royalty series, with all the glamour, the gowns, and the gossip of wealthy aristocrats and royal families living in modern-day Europe, not as we know it, but as it might have been…