In The Prince She Never Forgot by Scarlet Wilson, Ruby Wetherspoon was a fairly simple girl from England and she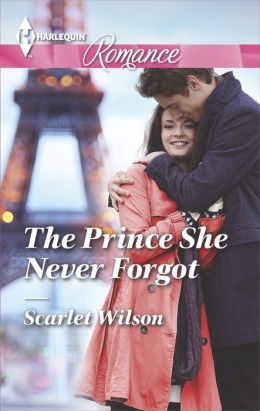 was in Paris with her friends for the New Year. What could be better? Then she lost her friends, her phone got shattered and she was being smothered in a crowd. Until he showed up, the hunk of a man who saved her from the crowd and gave her the most spectacular New Year ever. Until he was gone and no message, for ten years she hoped to see him again, all while living her life, she hoped.
Alexander of Euronia had the weight of a country on his back, literally. His father, the King was ailing and he was going to have to step up for his county but the one night he kept reliving was that New Years he spent in Paris. Add to that his best friend being diagnosed with breast cancer, marrying her, having a wonderful daughter and then losing her. What was he supposed to do? He couldn't stop thinking about that night in Paris though.
When Alex needed someone with Ruby's talents he knew he had to reach out to her, had to get her back in his life. The problem was it wasn't all about his daughter or Ruby's talents it was about them, about the passion, the attraction that they had ten years ago. When the press and reality set in though will their feelings be strong enough to ignore the outside world and focus on their small family? Or will the outside world creep in and make their lives unbearable?
OMG Ms. Wilson has given her readers an amazing New Year proving that sometimes fairy tales really do come true. Yes there are some really "interesting" themes for instance the color one (scarlet, ruby, red) but overwhelming clear in this novel is the romance. This book has that in spades. A father's love for his daughter, a couples love for one another that even time and other people can't overcome, even a Prince's love for his country. Love is clear in all aspects of this novel.
The Prince She Never Forgot  is a good read for anyone who has a little bit of a Cinderella thing and who loves romance.
Book Info:

Published 1/1/2015 by Harlequin Romance Series #4458
Ten years after therapist Ruby shared an unforgettable kiss in Paris with a stranger, he shows up on her doorstep – and reveals that he's a prince! Duty has kept Prince Alexander away, but now he can make their dreams come true…