In The Prince's Bride (Modern Fairytales #2) by Diane Alberts, Alicia Forkes is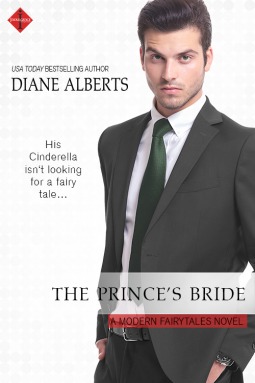 determined to cross items off the bucket list her recently deceased best friend gave her to bring some fun into her life, and having sex with a stranger is definitely a priority. Soon after, she learns the man she chose is not a stranger, and in fact, is the man that broke her heart when she was a teen. Can he convince her to give him a second chance?
"Can you at least tell me what I'm in trouble for?"
"I don't know whether you're in trouble or not," the man said. "Maybe the prince simply wishes to speak with you."
"I bet you say that to all the women your prince imprisons."
"I've never detained a woman for the prince before."
She shrugged, not meeting the man's eyes. "Great. I'm special. Wonderful. Maybe this is the only way he can get a girl's attention."
Prince Leo never has trouble with getting a woman's attention, but after summoning Alicia to his castle by extreme measures, he finds just how stubborn the woman he's always loved is. She's not very forgiving, and who could blame her. Yet, he's determined to win back her trust, and show her that he does deserve a second chance, especially after he discovers the reason for her hostility.
What an incredible second chance romance Ms. Alberts has penned, encompassing a heroine that believes it's better to be alone, and a hero determined to prove her wrong. Right from the beginning, this story was fast-paced, entertaining, and filled with plenty of emotion that brought tears to my eyes a few times throughout, as Alicia is determined to fulfill her late best friend's bucket list and ends up having sex with a man that turns her life upside down. Whether it's for the better or worse – at first – was a question I kept asking myself, yet the more I read, the more I was convinced that Alicia needed Leo and vice versa.
The dialogue was compelling, and I loved the playful dialogue between Leo and Alicia. She isn't afraid to let the hero know what she thinks, even if it shocks the people that hear her. Without a doubt, no one ever speaks to him the way she does. However, the dialogue is also intense due to the main characters back stories, especially Alicia's. She's lost everyone that has ever meant anything to her, and it's made her believe that she's better off being alone. Made her feel she's protecting herself from people disappointing her like she believes the hero did years ago.
"What happened to you?" he asked softly.
"The same thing that happens to everyone." She lifted a shoulder. "Life."
"Life doesn't have to harden you," he said, nodding at another employee of the palace.
"I disagree. I think it's a part of growing up. Life's disappointments are what make you stronger. They're what make you…you."
I really liked both characters as well as most of the secondary ones, apart from one of the prince's advisors that thinks Alicia isn't good enough to be in the prince's life and isn't afraid to express his opinion. Yet, I liked Leo's dad and the way he convinces the hero to do whatever it takes to convince Alicia to let him back into her life. Because his dad wants him to be happy, and it's palpable that the heroine makes him happy. Besides, with what happens to his dad, they definitely need to find their way back to each other, as Leo needs her more than ever after that.
Alicia is strong, brave, sassy and independent. She has every right to be annoyed with Leo towards the way he goes about keeping her in his country. Her life hasn't been easy since they parted ways as teenagers, and it has made her view life maybe a little too harsh. Then again, I couldn't blame her, especially with all that's she been through. But what I liked most is that she provided such a challenge for Leo. It wasn't easy for him to win back her trust, but I cheered for him every step of the way as he tried. While Leo, he's confident, courageous and determined to win back Alicia as well as be the best royal he can be. No way can he fail, not if he wants to succeed in the role of king as his father did. I also enjoyed how he interacted with the people of his country. He really cares for each and every one of them.
Overall, this was an absolutely delightful second chance romance where the sex scenes were hot, and Leo's dirty talk certainly makes it hard for Alicia to continue to ignore the intense chemistry that exists between them. Indeed, it also makes her say things out loud that she doesn't mean to. Ms. Alberts wrapped this story up wonderfully with the speech Leo gives to win Alicia back, and then what happens in the epilogue. His country needed to accept that an American was going to be queen, because Alicia wasn't going anywhere as far as Leo was concerned. I would recommend The Prince's Bride by Diane Alberts, if you enjoy second chance romances, or Cinderella type stories in which the heroine certainly deserves a happy ever after.
Book Info:

Publication: June 20th, 2016 | Entangled Publishing | Indulgence | Modern Fairytales #2
Alicia Forkes went to a trendy club looking for a way to forget her troubles, and she found that in the arms of the gorgeous man who swept her off of her feet…and into one of the hottest encounters she'd ever had in her life. Awesome sex with a stranger is now something she can check off her bucket list.
Except he isn't exactly a stranger. He's the guy who broke her heart when they were teens, an experience she doesn't plan on repeating.
Prince Leo can't believe he's finally found the woman he's loved for years, and she wants nothing to do with him. When she shows up at his office, she looks anything but princess-like. In fact, she's cursing him to hell and back. She may not be Cinderella, but he's determined to prove he's the prince for her––even if it means letting her go.