The Prince's Nine-Month Scandal by Caitlin Crews is the first of a duet of romances featuring twins separated at birth who didn't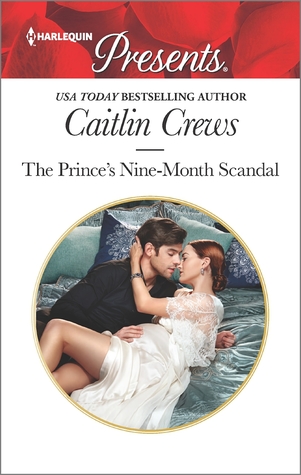 know about the others existence until the fateful day they meet. This story is Natalie Monette's, personal assistant to a billionaire, raised by a single mother who told her there's no such thing as Prince Charming. When a chance encounter with Princess Valentina of Murin reveals a face identical to her own they hatch a plan. Princess Valentina is affianced to Prince Rudolfo of Tissely and preparing for a royal wedding. She wants a chance to live a normal life for the few weeks remaining before her wedding, and Natalie can't resist the lure of finding out what life as a Princess is really like, especially with the new knowledge that she must be part of the royal family. Princess Valentina assures Natalie that it's purely an arranged marriage between her and Rudolfo and they make the switch, with none the wiser.
Used to the life of a billionaire from her work with her boss, Natalie is able to slip almost seamlessly into the role of a Princess. But she doesn't count on the searing attraction she feels for Rudolfo, nor for the way their sparring makes her feel. She's not the only one struck by the attraction between them as Rudolfo struggles to make sense of the woman who seems nothing like the fiance he's used to. The passion that flares between them gives him hope that they can make their marriage a real one. But when Natalie's secret is revealed, will it ruin their chance at happiness?
The idea of identical twins being raised separately and discovering each other later in the life is one of many fairy tales, and I loved how it was dealt with here! Natalie and Valentina are quick to take the opportunity to discover how the other half lives, so to speak, but it's made more believable by the fact that Natalie is used to being around wealthy people. It doesn't make up for her lack of familiarity with Murin Castle but she adapts quickly. I liked especially how she interacts with Rudolfo, speaking her mind, with the idea that she's going to help Valentina get more respect from Rudolfo. She just doesn't count on being attracted to him, or the obvious attraction he feels for her. The ethics of her interacting with her sister's fiance are dealt with well, with Natalie being able to text Valentina who has her phone, and she is given Valentina's blessing should anything intimate happen between them.
I really enjoyed Rudolfo's character as well. His older brother died of an unexpected illness, leaving Rudolfo in the role of Crown Prince and Heir, a role he never wanted and one which has created stress in his relationship with his father. He's a daredevil, a man who takes chances, and he is only marrying Princess Valentina because it is required of him. He's fascinated by the woman who seems so different from the one he's met before, and also by his new attraction to her. He is quick to want to turn their verbal sparring into more physical interactions and delights in the passion she can't hide. They share some sexy scenes together. Rudolfo's new found appreciation for 'Valentina' also makes him take a hard look at his life and what he wants for his future, including his role in his country and he decides to make some changes for the better.
Soon enough, Natalie realizes just how much trouble she is in, her feelings for Rudolfo strengthening day by day. The truth comes out, but even with it known, things don't happen the way she expects them to. Love eventually saves the day, and we get a sweet happy ending for this couple, and for Natalie who is finally able to regain her true heritage. The ending is a bit rushed but wraps the story up nicely.
A quick comment – the title of this story and the blurb are confusing because they imply that the main scandal is related to pregnancy and that isn't the case. This line in the blurb 'But scandal abounds when he discovers who he's taken to his bed and that she's carrying his heir!' is incorrect, as there is no public scandal resulting from Natalie's identity or a pregnancy. Yes, Natalie becomes pregnant, but it isn't revealed until the very end and has no bearing on Rudolfo's actions. I'm attributing this error to the publisher and not the author. Regardless, this is one of my favorite stories by this author, and I'm very much looking forward to reading Valentina's!
Book Info:
Publication: May 23, 2017 | Harlequin

 Presents | Scandalous Royal Brides #1
A shocking royal pregnancy!
Personal assistant Natalie Monette's life transforms when she meets her secret identical twin. Except Valentina is a sophisticated princess, unhappily engaged to the supremely arrogant Crown Prince Rodolfo. Impulsively, Natalie agrees to swap identities for six weeks. Her plan is to put Rodolfo in his place until she's enticed by the heat between them!
Prince Rodolfo can't understand why, having never felt any desire for his betrothed, he now can't keep his hands off this captivating woman. But scandal abounds when he discovers who he's taken to his bed and that she's carrying his heir!