The Prince's Stolen Virgin by Maisey Yates is the second story in her Once Upon a Seduction series, with fairy tale themes as part of a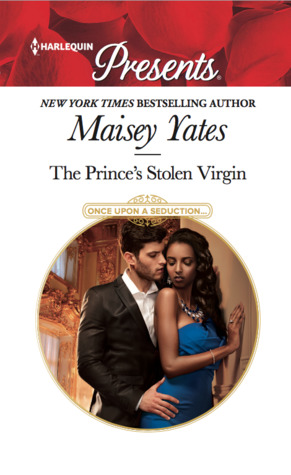 sensual romance. This time it's a Sleeping Beauty story, but with the princess ending up with a prince who is more of a dragon than a charming man.
Briar Harcourt was adopted at an early age and raised by loving parents who gave her everything but were also very protective. It turns out they had good cause, when a stranger kidnaps Briar off the street. The kidnapper is Prince Felipe Carrion de la Vina Cortez and he has a story to tell Briar. She's really a long lost Princess, given up for adoption by her real parents to keep her from the clutches of Felipe's father. Now that Felipe's father is near death, Felipe plans to marry Briar and the joining of their two families will help stabilize both their lands. He's got no qualms about seducing Briar to get his way, but he doesn't believe in true love. Briar soon finds herself falling for the man who opened her eyes to her true place in the world. But can she convince him that just like in a fairytale, they can have a happy ever after?
I really enjoyed the first story in this series, The Prince's Captive Virgin, which is a beauty and the beast retelling. We were introduced to Felipe in that story as a friend of Adam, and knew that he had some heavy issues weighing him down. Now we know that he's got the weight of his country on his shoulders. His father is on his deathbed but was an abusive and hateful man who caused Felipe's mother to commit suicide and Felipe has been waiting for the day when he could take over and fix all the wrongs his father had done to their country. He needs a Princess by his side, and after spending years looking for Briar, his desperation means he's not willing to give her any choice in the manner. I felt as concerned as Briar did at the start, as she worries about her adopted parents' reaction to her going missing. But it's soon revealed that they know her background, and she is able to phone them and tell them what is going on, to alleviate their worry.
Felipe is definitely a darker hero, but it's understandable considering his circumstances. He's not Prince Charming, and his kidnapping of Briar definitely makes him more of a villain (hence the dragon analogy) than a hero, at least until we understand his motivations. In contrast Briar is a much lighter character, and the contrast between them makes their sexual attraction flare quickly. Briar is an innocent, and Felipe is not. He's quite happy to introduce her to the sensual arts and they share some steamy scenes together. For Briar the connection leads to more emotional feelings about Felipe despite her initial and understandable wariness, especially as he shares his past with her. Felipe makes several mistakes with Briar that he has to fix and does a good job of grovelling to ensure their happy ending. As far as fairytale romances go, I love the uniqueness of this series by Maisey Yates and I'm looking forward to reading more!

Book Info:

Publication: July 18, 2017 | Harlequin Presents | Once Upon a Seduction #2
Awakened by his kiss…
Ordinary Briar Harcourt is horrified to discover her life is a lie–she is in fact a long-lost princess, sent into hiding to escape a forced marriage to a brutal king. But now his son, Prince Felipe, has found Briar and is determined to claim her as his bride!
Marriage to Briar will give Felipe the power he was born for: her compliance is nonnegotiable. But his searing, uncontrollable desire for her is unexpected…and he'll use all his formidable charisma to seduce her into surrender!