The Proposition by Elizabeth Hayley will definitely appeal to readers who enjoy hockey players and/or fake relationships. This one has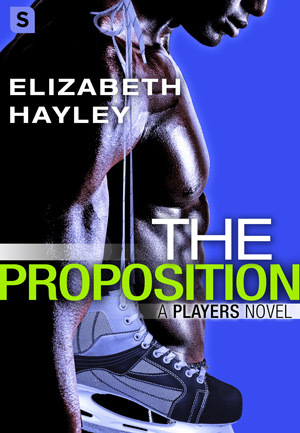 both!
Ben Williamson is a professional hockey player who is in a bit of a jam. His brother is getting married and he needs to turn up with a date, otherwise his mom will play matchmaker and the others will look at him with pity. When his friends recommend going to the strip club and finding an escort, Ben balks at the idea, but eventually caves.
Ryan Cruz's life hasn't been easy and when she meets Ben, it's in the nick of time. Ryan just walked out on her job and has no idea where she's going to find money to live on. Small talk ends up with an offer that she can't refuse. Ryan knows she should confess to Ben that she's not really who he thinks she is, but the money is too good to pass up.
As Ryan and Ben get to know each other, the more they enjoy each other. It's clear that they have chemistry between them, so what's the harm in exploring their attraction? Well…Sooner than later, feelings develop and what was supposed to be a fake relationship turns into something more. But when Ben gets backed into a corner and opens his mouth, the damage might be too deep to fix.
I enjoyed Ben and Ryan. More Ryan than Ben. The dialogue between Ben and Ryan was funny at times and nothing felt forced between the two of them. My only issue with the story was Ben's problem with his parents. Ben's family isn't as terrible as we are led to believe. He really blows it out of proportion. I get why he was at odds with his brother, though, his brother is a total douche for betraying him like that. But his parents…they were good people. As for Ryan, she's funny, real, and not afraid to take chances. You will root for Ryan and Ben, no doubt! Overall, an entertaining read.

Book Info:

Publication: October 31st 2017 | Swerve | The Players #2
Professional hockey player Ben Williamson doesn't quite know how he got himself into this situation; hiring someone to be his date to his brother's wedding is way out of character for him. But with family pressuring him to settle down, going stag just isn't an option. It would just be one more thing his polite, cultured family uses as ammo against him.
Ryan Cruz is having a bad day. Wait, make that a bad year. Broke, technically homeless, and living on a friend's couch, she's now also unemployed after her sharp tongue gets her fired from her job. So when a handsome stranger approaches her out of the blue with a proposition–he'll pay her to be his date to his brother's wedding for the weekend–accepting his offer is a no brainer. She needs the cash and figures it wouldn't be in the best interest of a professional athlete to murder her.
What starts as a simple business arrangement soon becomes more as these opposites attract and get caught up in the wedding magic. Will Ben and Ryan be able to turn their relationship into something more? Or is love based on a proposition too much of an obstacle to overcome?